Outgoing Chairman Advises EC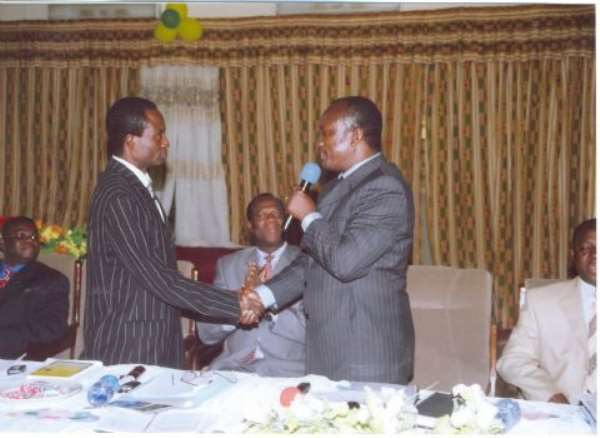 The Outgoing Chairman (right) Apostle Dr Michael K. Ntumy Congratulating the In-coming Chairman (left) Apostle Dr Opoku Onyinah
The Outgoing Chairman of the Church of Pentecost, Apostle Dr Michael K. Ntumy has asked the Electoral Commission (EC) to conduct a peaceful and transparent general election this year, to avoid confusion and violence in the nation. He commended the EC for the way it has conducted elections since 1992.
The Apostle said the previous elections should serve as a guide for the impending general election for peace to prevail. 'Ghanaians hold EC in high esteem and so appeal to it to make this year's election, free, fair and transparent to avoid any confusion in our society.'
Apostle Dr Michael K. Ntumy, whose term of office ends in August this year gave the advise at the Pentecost University College in Accra today, when he congratulated the newly elected Chairman of the Church of Pentecost, Apostle Dr Opoku Onyinah for being elected by the Church as the next Chairman, yesterday.
The newly elected chairman Apostle Dr. Opoku Onyinah, who is 54 years old is the current Rector of the Pentecost University College. He is married to Grace and blessed with five children.
Apostle Dr Opoku Onyinah would be assisted by Apostle Alfred Koduah as his General Secretary, Apostles, Ekwow Badu Wood, Francis Ofori Yeboah, James Smith Gyimah, Osmani Zabre and Albert Amoah.
Other Executive Members include Prophet Jonathan Ameyaw and the International Missions Director, Apostle Stephen K. Baidoo.