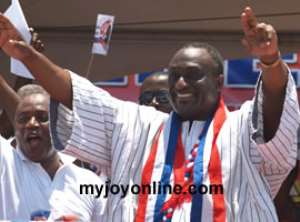 The Statesman newspaper says information available to it suggests that the resignation of Alan Kyerematen, the former Trade & Industry Minister, has been suspended pending the findings of a five-man committee that was set up yesterday.
This followed two high-powered reconciliation meetings in the last three days initiated by the New Patriotic Party's Presidential Candidate, Nana Akufo-Addo.
Indeed, The Statesman has been informed that Mr Kyerematen is even prepared to join Nana Akufo-Addo's next round of campaign tours which starts next week.
Last Sunday's meeting involving President John Agyekum Kufuor, NPP National Chairman Peter Mac Manu, Nana Akufo-Addo and Alan Kyerematen resolved that the failed presidential aspirant's case will be looked into by the ad hoc committee.
But, in the meantime it was agreed at the weekend's reconciliation meeting that Mr Kyerematen's letter of resignation may only take effect after the committee's sitting.
A source close to the meeting said that Mr Kyerematen appeared very positive and willing to "remain a loyal party member."
He is said to have even gone as far as assuring the meeting that writing a letter to rescind his earlier resignation letter would not be a problem at all.

Mr Kyerematen is expected to write details of his complaints, which revolves around allegations that several of his supporters have been unfairly treated after the congress.
"Several party members have come out to deny this. Others have also said the problems associated mainly with the parliamentary primaries have not been exclusive to those who supported Mr Kyerematen."
"The decision to demand a suspension of the resignation letter was seen as the best way forward under the circumstances.
"This is because, according to a senior party source, to accept that he'd resigned, would have made it difficult for Mr Kyerematen's grievances to be looked into. Secondly, once a party member has resigned, returning to the party would call for a procedure, including a new application for membership.