Government To Support Women Own Houses - Minister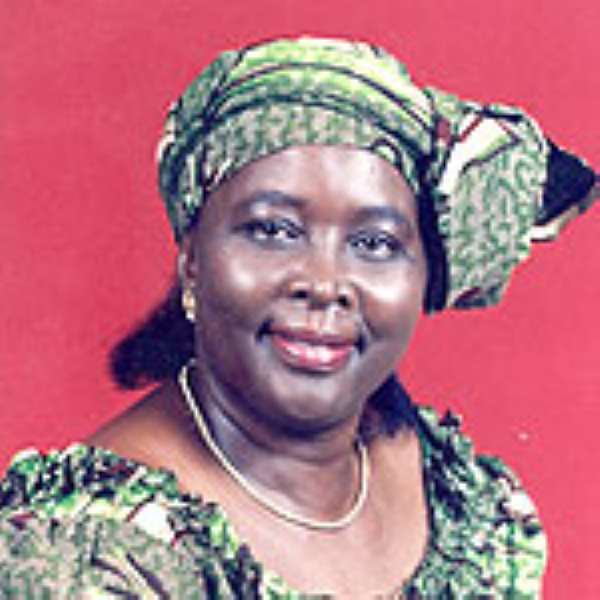 Hon Hajia Alima Mahama, Minister for Women and Children Affairs Mr Daniel Dugan, Deputy Minister for Women and Children Affairs last Friday said government was committed to facilitating land acquisition for women, to enable them to own houses. This, according to Mr Dugan, required that women improved their understanding of land issues and its use, management and property inheritance.
Mr Dugan said certain inhibiting cultural practices must be removed so that title deeds of family lands could bear the names of both male and female children or husband and wife, to clearly establish their legal rights. 'The fundamental principles of gender equality and non-discrimination must re-affirmed in all national land policy documents, as well as reflecting in all statutory and customary laws,' Mr Dugan said.
Mr Dugan made the statement during a meeting with the leadership of the Ghana Women Land Access Trust (GAWLAT) and the Executive Director of UN-HABITAT, (Mrs) Anna Kajumulo Tubaijuka in Accra.
The GAWLAT is an affiliate of the Women's Land Access Trust (WALAT), within the UN HABITAT, which operates also in Tanzania, Kenya and Uganda. Operating as a co-operative, GAWLAT, presently with about 200 members has the objective to organise women in peri-urban areas to facilitate their access to credit, land and housing development. The Association has branches in Old Fadama, Ashaiman and Accra New Town, all suburbs in Accra.
Mr Dugan observed that even though there was no law preventing women from acquiring and owning land, majority of them, especially rural and urban poor women, were not able to purchase land in view of the high costs, high transaction cost and tedious land registration processes.
Other problems associated with land acquisition were cultural systems that favoured men more than women, and the inhibitions, which according to the Deputy Minister, placed a limit on the acreage of crops women could grow, restricts women's access to credit from formal sources for lack of collaterals and further discourage their interest in land conservation.
Mr Dugan said there was the need to strengthen women's rights in marriage and inheritance through the passage of the spousal property rights law to regulate poverty distribution across all forms of marriage. 'Also women's right to landed property must be guaranteed by Law through the repeal of all family and customary law provisions, which discriminated against women'.
The Deputy Minister commended the GAWLAT initiative and expressed the hope that the Land Administration Project, which is addressing reforms within land ownership in Ghana, would address gender disparities in access to land, its control and ownership.
Dr Tibaijuka, in a remark, said it was time young people in low income groups start preparing early enough through co-operative schemes to own their own houses, adding that, 'Collective strength would increase your access to shelter.'
She assured the GAWLAT of support from her outfit. 'When you have the savings, we shall help you to leverage your savings for housing.'
Dr Tibaijuka however cautioned that the house ownership within the WALAT was not a gift, and urged members to honour their contributions. In a report, Madam Jane Adu of the Ashaiman Branch, said the Branch had acquired 30 acres of land at GH¢3m, and had paid GH¢2600 out of the total amount and appealed for support for registration and take off of the housing project.
Ms Cecilia Obeng Dapaah, a Minister of State at the Ministry of Water Resources, Works and Housing urged the leaders to ensure transparency and accountability in the management of the resources of the association. She said Government had created land banks, which could be accessed for development, and assured the women that the Ministry was prepared to assist them.