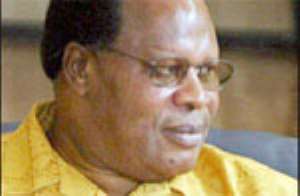 Malawi's former President Bakili Muluzi has won the contest to be named the main opposition party's presidential candidate in next year's poll.
He won 1,950 votes against the 30 won by Vice-President Cassim Chilumpha - his only challenger for the United Democratic Front ticket.
But it is not clear whether Mr Muluzi would be eligible, as he served two terms before stepping down in 2004.
The constitution bans a president from more than two consecutive terms.
Mr Muluzi's supporters say this means he can now stand again but others disagree and the issue is likely to end up in court.
"In my own view, the spirit intended by the constitution was that a president can serve no more than two terms of office but it is a highly contested issue," constitutional expert Edge Kanyangolo told the BBC's Network Africa programme.
The BBC's Raphael Tenthani in Blantyre says Mr Muluzi's supporters erupted into song and dance when the results were announced.
He says Mr Chilumpha sat glum-faced, while his backers said the contest was unfair.
The vice-president is under house arrest on treason charges, while Mr Muluzi is party chairman.
"I have accepted this responsibility and I can assure you we will remove Bingu from power," Mr Muluzi said in his acceptance speech. BBC
President Bingu wa Mutharika was elected as the UDF candidate in 2004 but soon afterwards fell out with Mr Muluzi.
Mr Mutharika then formed the Democratic Progressive Party (DPP).
Mr Muluzi told the BBC that Mr Mutharika had "forced" him to stand again, as he wanted the UDF to be in power.
"After 2004, my intention was to retire," he said, adding that if elected, he would only serve one term of office.
Mr Muluzi ended Hastings Banda's 30-year-rule in 1994, winning the country's first multi-party elections.