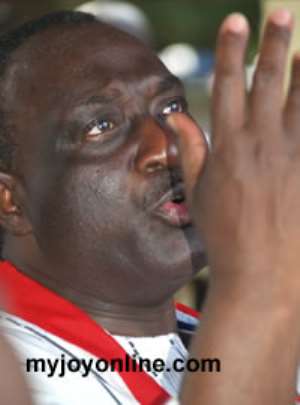 Alan Kyerematen, the runner-up in the New Patriotic Party (NPP) December 22, 2007 congress at which the party's presidential candidate was elected has been described as a 'rebel without cause'.
Alan Kyerematen who resigned from the NPP last week citing alienation and intimidation of his supporters as the reasons has been in the news since his resignation.
The former minister of Trade and Presidential Special Initiatives, whose resignation from the NPP appears to have caused a rift in the party has stuck to his guns after news started making the rounds that he was poised to rescind his decision and return to the party.
Speaking on Alan's resignation on Joy FM's Current Affairs show, News File, Egbert Faibile, editor of the Ghanaian Observer newspaper said Alan Kyerematen has turned himself into a rebel without cause.
He then asked, "Is it because he has been a member of the Young Executives for a long time? Or because he has been a Minister before, or is it because he had 700 votes?"
He went further to ask, "Or would the delegates who voted for him follow him?"
Egbert in an attempt to play down any possible effects Alan's resignation from the NPP could have on the party, made reference to history. He said no one in Ghana's political history ever moved to another party and succeeded, except Dr. Kwame Nkrumah, referring to Nkrumah's departure from the United Gold Coast Convention (UGCC) to form the Convention People's Party (CPP), from where he eventually became Ghana's first president.
He added also that in a conversation with an old friend, the man claimed that Victor Owusu, the presidential candidate of the Popular Front Party (PFP) in the 1979 general election, told him (the old friend) that, the greatest mistake he had ever made was to leave the CPP.
According to Egbert, the as a result, Victor Owusu never achieved one of his political objectives – to be president of Ghana, even though, he became a presidential candidate.
Questioning Alan's character, he asked whether everything Alan did while he was in government was in the interest of the nation as against his personal or party interest.
He said this in apparent reference to a part of Alan's resignation letter which stated that it appears that there is a calculated attempt engineered from certain quarters to create public disaffection for him, and that while it is true that no single individual is more important than the party to which he belongs, it is equally true that national interest is superior to the interest of any single party.
Egbert doubted whether everything Alan did while in the NPP and in government was in the national interest.