Man arrested for alleged murder of wife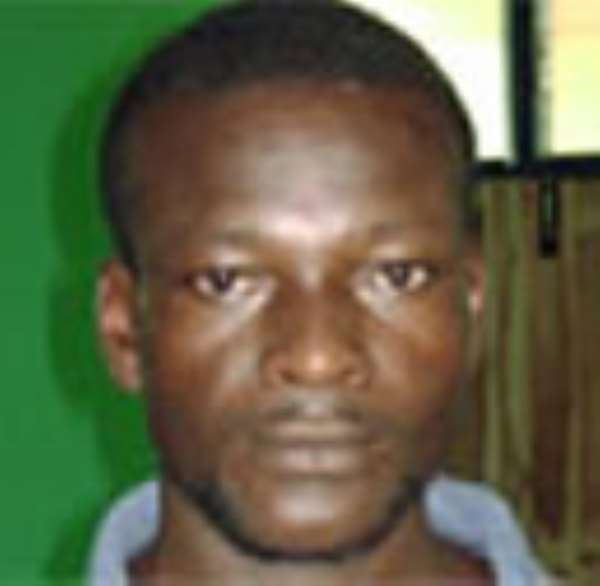 A 45-year old farmer, Kwaku Chigu has been arrested by the Wenchi Police for allegedly murdering one of his two wives.
Chigu who was married to two biological sisters, killed the senior wife who was also the older sister for challenging him when he refused to allow her younger sister visit their father at Kintampo.
The suspected murderer, according to the Wenchi District Police Commander, had also secretly buried the deceased without the knowledge of the parents.
Briefing DAILY GUIDE, the Police Commander, Deputy Superintendent of Police (DSP) Prince Samuel Osae, indicated that Chigu became offended when the senior wife, Abena Sogoli asked him to allow her younger sister visit their father at Kintampo, contrary to his orders that she should not go.
According to DSP Osae, Chigu, who had four children with the deceased, hit her several times with a stick till she became weak and died two days later.
The Police Chief said the suspect never reported the incident to the police or even hinted the parents of the wives, but secretly went ahead to bury the body at a cemetery in Awisa near Wenchi.
The younger wife, Tetele Afia Nugua, 25, subsequently reported the crime to the police at Wenchi and her husband was arrested.
DSP Osae said the suspect told the police that the wife died as a result of an abortion.
According to the suspect the deceased was two months pregnant and in an attempt to terminate the pregnancy through some concoction prepared by him (the husband) she passed away.
To ascertain the authenticity of the suspect's claim, the police invited pathologists from the Komfo Anokye Teaching Hospital to conduct an autopsy on the body, which was buried on April 20.
According to the Police Chief, the body had to be exhumed for the autopsy to be conducted and had since been re-buried.
At the time of filing the story, the report as to whether the deceased died through abortion or battery was not ready.
Chigu was charged with provisional charges of murder and hindrance of inquest at the Wenchi Magistrate Court.
Source: Daily Guide