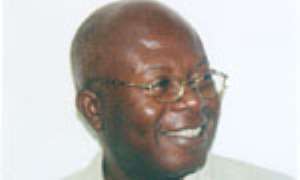 IN AN attempt to control and prevent malnutrition in the country, the Western Region has launched the Global Alliance for Improved Nutrition (GAIN) Fortification Project and the National Food Fortification Programme (NFFP) in Takoradi.
The project, which is on the theme "Strengthening Private-Public Partnership to Control Hidden Hunger" is being executed by the Food and Drugs Board (FDB) and would last for three years.
It seeks also to provide a means to begin a comprehensive National Food Fortification Strategy to fortify selected foods to help alleviate the problem of micronutrient deficiency disease, which is highly prevalent in the country.
Speaking at the launch of the programme, the Western and Central Regional Zonal Officer of the Food and Drugs Board, Mr. George Paintsil, said micronutrients deficiency particularly in vitamin A and iron deficiency anaemia were widespread problems worldwide, affecting all ages and socio-economic groups.
He pointed out that problems associated with micronutrients were as a result of inadequate dietary intake due to poverty, lack of access to variety of foods, lack of optimal dietary practices and the incidence of infectious diseases.
He said it was as a result of these that a 35-member multi-sectoral National Food Fortification Alliance (NFFA) was formed to develop a five-year fortification alliance programme to address the
problem.
He explained that the NFFP was funded by GAIN to increase consumer awareness of the benefits of fortifying wheat flour and vegetable oil, to reduce micronutrients deficiencies.
He urged all consumers to consume fortified wheat flour and vegetable oil and also educate others to ensure the success of the NFFP to curb micronutrient deficiencies.
The Deputy Western Regional Director of Health Services, Dr. Linda Vanotoo, said malnutrition was a primary cause of morbidity and mortality, explaining that micronutrient deficiency limits both physical and mental growth during the vital years of childhood.
She pointed out that deficiency of iron as well as other vital nutrients such as iodine, zinc, vitamin A among others could have a negative impact on the health and productivity of adults.
She said since micronutrient deficiency disease did not occur in isolation there was the need for all to fight against it, saying maternal anaemia had been responsible for about 22 percent of maternal deaths in the country. Dr. Vanotoo called on the media to devote time to issues related to malnutrition and micronutrients deficiency because they have huge impact on the physical wellbeing of the people and national development.
From Sam Mark Essien, Takoradi