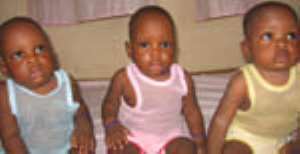 AN APPEAL for assistance launched on behalf of 7-month-old Jeffery, Humphery and Alfred Lamptey in the DAILY GUIDE recently has touched the kind hearts of a number of Ghanaian philanthropists, including an Accra-based middle-aged woman, who wants to remain anonymous for now.
The lovely triplets (pictured above) were delivered in September last year at a private clinic in Accra by one Mrs.Vida Lamptey.
The parents of the kids are presently finding it difficult to raise an amount of GH¢400 to enable Humphery, whose genital organ is deformed, to undergo a surgical operation at Korle-Bu.
Aside this, caring for the children, according to Mr. Edmund Lamptey, father of the babies, has been a burden on the family, hence their appeal for support from the public.
The family's fear is that their present economic situation could affect the proper upbringing of the children.
They are still appealing to the public to come to their aid.
By A.R. Gomda