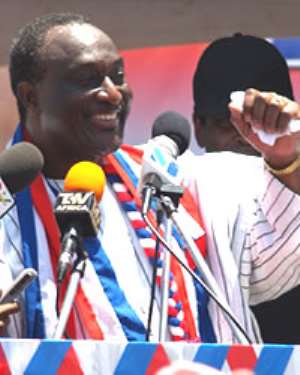 Listen to Da Rocha speak to Dzifa Bampoh.
A founding member of the New Patriotic Party (NPP), Mr. B. J. da Rocha has called the bluff of failed presidential aspirant Mr. Alan Kyerematen over his decision to quit the party.
He said Mr. Kyerematen had no deep rooted commitment and loyalty to the NPP.
In a statement, Mr da Rocha said he was compelled to go public because of Mr. Kyerematen's press statement during ongoing negotiations.
"Frankly I did not expect the statement that came yesterday to come yesterday", he said.
The NPP elder and other party leaders had been trying to persuade the former Trade and Industry Minister to rescind his decision to quit the party.
But while the negotiations were ongoing, Mr. Kyerematen issued a statement on Thursday dispelling speculations that he could return to the party.
He claimed the mediators had asked him to withdraw his resignation unconditionally "without a substantive discussion of the concerns raised in my letter".
"I have disagreed with this proposal because in my humble opinion it does not resolve the matter on hand", Mr. Kyerematen said in his statement.
However, Mr. da Rocha says Mr. Kyerematen's concerns are unjustified arguing that his complaints were "flee bites compared to what many loyal members in the party had suffered in the past."
He said the runner-up in the NPP presidential race will become a "disruptive factor a stumbling block and a lose canon if accepted back into the fold of the NPP."
According to him, Alan's statement was indicative of the fact he had slammed the door on the party.
Mr. da Rocha who is also a former National Chairman of the party rejected the idea that Mr. Kyerematen has a constituency in the party that cannot be risked.
He said the former Trade Minister only got the support of members of the party in his bid to lead it to the December elections.
The NPP stalwart asked the leadership of the party to accept the resignation of Mr. Kyerematen and concentrate on winning the December polls.
Accepting Alan back for Mr. da Rocha can only create a power struggle between him and the flag bearer of the party, Nana Akufo-Addo.
That, he said would not do the party any good and ought to be avoided.
Story by Malik Abass Daabu