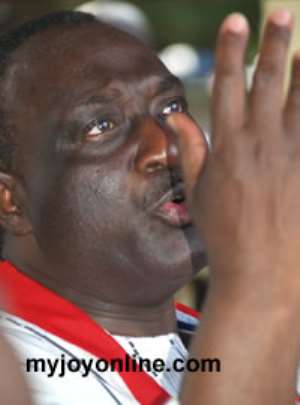 The Daily Guide newspaper says the former New Patriotic Party (NPP) presidential aspirant, Alan Kyerematen does not intend to return to the NPP, contrary to media reports and speculations in political circles that he could be returning soon after his shocking resignation a week ago.
"…Daily Guide can state on authority that the former Trade and Industry Minister is far from making any such political summersault. Sources close to the former aspirant said Alan was firmly holding on to last week's resignation and that no decision had been made by him to return to the fold of the ruling party in the foreseeable future," the paper reported on Thursday.

The Daily Guide quotes a source as describing all comments made in the direction that Alan was poised to return, as completely misleading and asked all interested parties to note that "Alan is not vacillating on his resignation". It went further to explain that Mr. Kyerematen's resignation letter was addressed officially to the party's National Chairman, Peter Mac Manu, who is currently out of the country, stressing that the "response from the party Chairman will set the tone for any further action from him.

"He is awaiting the return to the country of the Party Chairman, hopefully tomorrow (Thursday), to hear from him on the issues raised in the resignation letter," it noted. Media reports had indicated that all was set for the return of 'Alan Cash' to the NPP fold following what was described as fruitful meetings with party elders; but latest information indicated that no truce had been reached, even though there were a couple of overtures and closed-door meetings. Since he submitted his resignation letter a week ago, efforts had been intensified to bring him back, with the reported setting up of a team by President John Agyekum Kufuor, to talk to him.

According to the reports, former national chairman, B.J. da Rocha and former Speaker of Parliament, Peter Ala Adjetey, as well as chairman of the Ashanti Regional Council of Elders of the party, Akentten Appiah-Menka, were among those who jointly and severally had 'conciliatory talks' with the former minister at various locations. The claims at the time were buttressed by Sheikh Ibrahim Cudjoe Quaye, Greater Accra Regional Minister (a.k.a. 'agbenaaa'), who confirmed Alan's return, saying the tug-of-war was over. Incidentally the Minister's claims were refuted by sources close to Alan, who contended that Mr. Kyerematen never spoke to Hon. I.C. Quaye.

And as if to confirm that no deal had been struck yet, Jake Otanka Obetsebi-Lamptey, Chairman of NPP Campaign Committee had taken to task the so-called Alan's spokespersons, saying they were making matters worse. Jake, also a former presidential aspirant, told Citi Fm yesterday that the spokespersons were putting spokes in the wheels of peace efforts. He opined that if there was the need to put any information into the public domain, Mr. Kyerematen was the best person to do so. Since his resignation, three persons, Kuuku Welsing-Jones, former editor of the New Vision, John Kumah and Charles Sam, had made several utterances on radio, apparently in defence of the former minister's decision.

Indications were that not all the pronouncements came from the defeated aspirant, who at a point sacked one of them from his newspaper as editor. Asked what effect Alan's resignation would have on the party, Mr. Obetsebi-Lamptey said it was too early to say. "Much too early to tell. It could be negative or positive, big or small, but it is too early to tell," he said. Kyerematen, popularly called 'Alan Cash', was the runner-up in the party's competitive presidential race at the December 22, 2007 Legon congress. His decision to concede victory to Nana Addo in order to save the party a second round bout won him a lot of admiration from the party's footsoldiers.
But things soon changed with his resignation last week, on the grounds that 'his boys' were being harassed. In a letter addressed to the National Chairman and copied to President Kufuor; the flagbearer, Nana Akufo-Addo; and general secretary, Nana Ohene Ntow, he lamented that his supporters in the party were being intimidated. "It is sad to note that even my recent efforts to embark on a 'thank you' tour of various constituencies during which I took the opportunity to call for peace and sanity in the party has been misconstrued in certain quarters within the party, leading to all kinds of negative propaganda.

"Under the circumstances, Mr. Chairman, I am compelled, regrettably to hereby resign my membership of the party with immediate effect", he stated in the letter, adding that he would rejoin the party at the appropriate time if circumstances permitted.
His resignation was greeted with mixed reactions. While some party members contended that his exit would have zero effect on the fortunes of the ruling party, others simply pleaded with him to return.

Source: Daily Guide