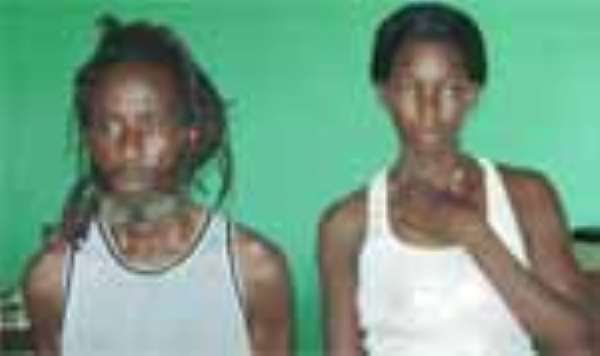 THE YOUTH of Badu in the Tain District of the Brong-Ahafo Region have attacked the police in the town following the arrest of a notorious 'wee' peddler, by throwing stones at the police personnel at the station.
According to the Wenchi District Police Commander, Deputy Superintendent of Police (DSP) Prince Samuel Osae, the action of the youth was meant to get the suspect, Abraham Kwartey Kotey, 50 and his 21-year-old female accomplice, Adjoa Vouroh, out of police custody.
However with a police re-enforcement from Wenchi, the two suspected drug peddlers were whisked into a police van and brought to Wenchi, where they are currently being detained.
They have since appeared before a Magistrate Court in Wenchi and are being remanded to reappear on April 24, this year.
Provisional charges preferred against them, according to the police, included possession of narcotic drugs without lawful authority.
The two suspects, as disclosed by the police, were picked up at about 8:00pm, with Kotey, popularly called Rasta, being the first to be arrested for possessing a substance suspected to be Indian hemp.
Briefing DAILY GUIDE, the Wenchi District Police Commander, said the youth, on getting information that Rasta had been arrested, besieged the premises of the Badu police station at about 11:00pm and began throwing stones at the police, apparently to get the suspects released.
Unable to contain the situation, the Badu police called the district command for re-enforcement.
According to DSP Osae, the youth, on seeing the police from Wenchi, took to their heels, so none of them could be apprehended.
He told DAILY GUIDE that the Badu police on April 18, this year met Rasta in town in possession of some parcels of a substance believed to be 'wee' and was therefore arrested.
According to the Wenchi District Police boss, Rasta later led the police to where a larger portion of the substance was being kept and there they saw Adjoa Vouroh with her 11-month old baby.
Three big sacks, he said, were found in the room.
The police commander said Adjoa told the police that the stuff was jointly owned by her husband, Kwasi Atta, who had travelled, and Rasta.
Kwasi Atta, according to the police, is an indigene of Nsawkaw, in the Tain district.
All the suspects claimed to be maize, pepper and cassava farmers resident at Badu.
From Simmons Y. Kewura & Rocklyn Atonio, Badu