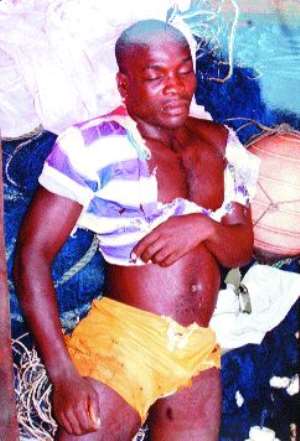 What should have passed for a normal fishing trip turned tragic when one fisherman died on the spot, while another sustained severe injuries, when their canoe was struck by lightning in the deep waters off Axim in the Nzema East District.
Twelve others, who were also in the boat, however, escaped unscathed and managed to sail ashore with the two casualties.

The name of the dead was given as Kweku Eshun, who was said to be the leader of the team.
The injured person, who is now paralysed and is responding to treatment, gave his name as Kwesi Bentum.

The names of the remaining 12 were given as Kweku Tawiah, Kofi Beyebi, Egya Apremu, Nana Akuu, Agya Kwawu, Kwasi Sampson, Adama Kojo, Kofi Akon, Kwesi Attah, Egya K. Kutrie, K. Kakrah and Uncle Essien.

The body of the deceased had several wounds on its back and neck, as well as twisted skin.

According to police sources, on the day of the incident, the fishermen, on board the canoe nicknamed "Sua Nyansah No.3", had information that their colleagues in Sekondi were catching enough fish and therefore decided to follow that direction from Axim.

The sources said realising that their catch was not encouraging after three days at sea, the crew resolved to move to the deep waters of Axim to see if things would change.

It said they were fishing at about 5:30 p.m. on April 10, 2008, when the weather suddenly changed and it started raining heavily amidst thunder and lightning.

The sources said in the process, lightning struck Eshun from where he was controlling the canoe.
They said the unharmed fishermen tried to resuscitate him but he died before they landed at the beach.

Meanwhile, the body has been released to the family for burial, while police investigations continue.

Story by Moses Dotsey Aklorbortu,