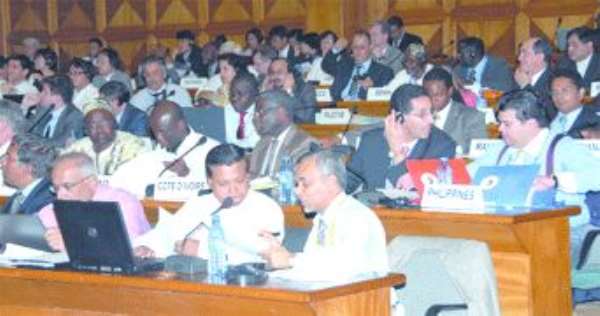 African, Caribbean and Pacific (ACP) countries have been advised not to sign the Economic Partnership Agreements (EPAs) with the European Union (EU) because they are anti-development.
Participants at the 12th United Nations Conference on Trade and Development (UNCTAD XII) in Accra, who gave the advice at a forum yesterday, contended that the EPAs were a threat to the economies of ACP countries and their regional integration.

The Deputy Minister of Trade and Industry of South Africa, Mr R. Davies, said the EPAs were far from the benefits they claimed to offer ACP countries, adding that "the devil is in the details of the agreements".

He said South Africa refused to sign the Interim Economic Partnership Agreements (IEPAs) because there was a gap between the objectives and details of the agreements.

The forum was organised by the Africa Trade Network (ATN), in conjunction with the Stop EPA Advocacy and Campaign Partners, both non-governmental organisations (NGOs).

Discussing the topic, "Why the EPAs are against development", the organisers sought to take advantage of UNCTAD platform to consolidate the voices of concern and dissent against the agreements.

In December 2007, 35 ACP countries, including 19 African countries, signed the IEPAs with the European Commission (EC) as a prelude to signing the EPAs in 2008.

Mr Davies made reference to provisions in the agreements that prohibited ACP countries from raising tariffs on 80 per cent of their imports from Europe, whereas their exports to the European markets were subjected to safety standards and tariffs.

"We certainly believe that this is a highly inequitable arrangement," he pointed out, adding that unless the EU addressed specific concerns raised about the agreements, the South African government would not sign the deal.

In his contribution, the Senegalese Minister of Trade, Mr Mamadou Diop, stressed the need to strengthen regional economic groupings, such as the Economic Community of West African States (ECOWAS), in order to address such challenges.

He urged civil society organisations to propose alternatives to the EPAs, pointing out, "We have support and friends but we need to do our home work."

An official of the Third World Network (TWN), Mr Gyekye Tanoh, dismissed claims that the EPAs sought to promote development and regional integration for ACP countries.

He said the idea of imposing taxes on the informal sector, which consisted of majority of the poor in Africa, whereas the rich in Europe were not subjected to the same tax system, "is an insult and a subversion of any notion of development".

When she took her turn, Emily Jones of Oxfam GB said the problem with ACP countries was not the lack of trade but the manner in which they integrated into the global economy.

She said although ACP countries had more than 80 per cent of the world's population, they controlled a minute percentage of global trade.

Story by Kofi Yeboah