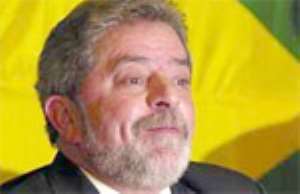 THE SECRETARY-GENERAL of the United Nations (UN), Mr. Ban Ki-Moon, left Accra last Monday afternoon after participating in the ongoing United Nations Conference on Trade and Development XII (UNCTAD XII).
Mr Ban, talking to the press in a pre-departure interview at the Kotoka International Airport, said during his meeting with Zimbabwean Opposition Leader, Mr. Morgan Tsvangirai, who is also in Ghana, he complained to him about the non-declaration of election results after three weeks of voting in Zimbabwe.
Mr. Ban said Mr Tsvangirai complained that Zimbabweans were being terrorized by soldiers and asked for the intervention of the African Union and the UN.
He expressed concern about the post-election violence in that country and urged Mr Tsvangirai to help resolve the issue through dialogue and peaceful means.
Mr. Ban urged authorities in Zimbabwe to release the election results so that Zimbabweans are not made to pay for their choice.
Earlier, the Brazilian President, Mr. Luis Ignacio Lula da Silva, also left for home after participating in the conference.
Before the departure of the two personalities, they received a 21-gun salute after inspecting a guard of honour mounted by three officers and 96 men of the First Battalion of Infantry under the command of Captain Alfred Martei, with the Armed Forces Band in attendance.
Mr Ban would also visit Liberia, Burkina Faso and Cote d'Ivoire.
Mr Kwasi Osei-Adjei, Minister of Foreign Affairs, members of the diplomatic corps and senior government officials saw both of them off. GNA