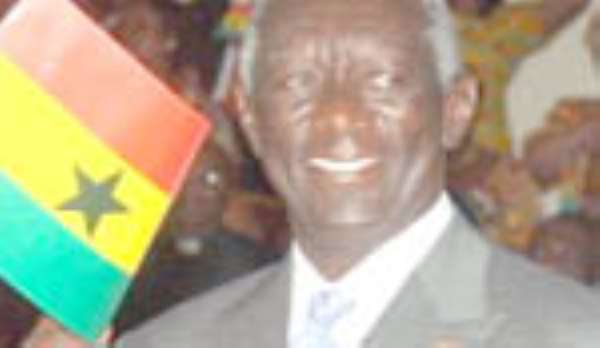 PRESIDENT JOHN Agyekum Kufuor on Monday called for a change in the development partnerships between African countries and their development partners.
Contributing to the topic, "Trade and development for Africa's prosperity: Action direction", at the ongoing UNCTAD conference in Accra, President Kufuor advocated for a new deal on trade, investment and technology relations between Africa and its development partners and said that must be buttressed on a principle of development solidarity.
This means a partnership of shared goals in which African countries are assisted to secure adequate financial assistance to support development and trade infrastructure as well as gain flexible and differential treatment in trade agreements, such as World Trade Organisation (WTO) Doha and the African Caribbean Pacific-European Union economic partnership agreements, to make African exporters competitive.
Enumerating several points that would push Africa's development agenda, President Kufuor said the move would also help secure access to appropriate technology for industrialization for accelerated development and also attract increased investment into Africa on terms and conditions that foster growth of domestic enterprise.
He as well encouraged the trend towards South-South Cooperation to break the continuing North-South Dependency Development paradigm which, in the first place, led to the creation of the United Nations Conference on Trade and Development.
For example, there is the China-Africa Forum, the India-Africa Summit and the Brazil-Africa Forum, which he said needed to be encouraged.
Importantly, most of the leaders such as Luiz Inacio Lula da Silva, President of Brazil and Ernest Bai Koroma, President of Sierra Leone, also made submissions in that direction.
"From Sao Paulo to Accra and beyond, we must not miss the opportunity to help bring about meaningful change in our time to make the world a better place for the people we serve," President Kufuor said.
Thus the new development partnership must capitalize on the growing South-South trade and economic integration process and as such it must start with regional integration as the foundations for a continental union.
To this end, President Kufuor accepted to be the patron of an initiative for an African Bio-fuels and Renewable Energy Fund to examine possibilities for clean energy development in Africa.
"There are lessons to be derived from the onslaught of Brazil, China and India, which are exploiting the positive aspects of globalization to register phenomenal growth in trade and development".
"Happily, these countries are already engaged in partnerships with Africa and other developing nations, aimed at producing mutually beneficial outcomes.
To address the multiple development challenges facing Africa, the partnership between African countries and the United Nations must be reinforced and strengthened, advocating the same for UNCTAD, the President of Ghana emphasized.
This, according to him, would enable the United Nations system to increase and sustain the substantial contribution which it is already making to promote the development aspirations of developing countries.
Subsequently it would also help developing countries achieve the Millennium Development Goals (MDGs) by the set date of 2015, he added.
On his part, Ban Ki-Moon, UN Secretary General called for the deepening of efforts towards achieving the MDGs.
Though the rising prices of food and crude oil posed a threat to the attainment of the MDGs, Mr. Ban said the scaling-up of development activities required unprecedented effort, but it is achievable.
Certain African countries such as Senegal have made strides towards attaining the MDGs and is making efforts at attaining the water target.
Niger, Togo and Zambia have made impressive progress in malaria control through the free distribution of bednets.