New Partnership Key To Meeting Africa's Development Needs - Kufuor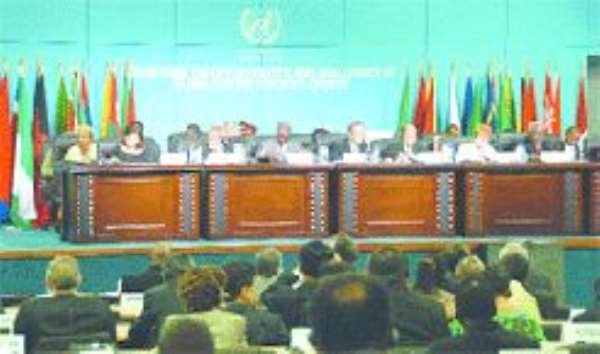 President J. A. Kufuor has called for a new partnership between Africa and its development partners to help address the multiple development challenges facing the continent.
He advocated a partnership of shared goals in which African countries would be assisted to secure adequate financial assistance to support development and trade infrastructure and also strike favourable trade agreements that would make African exporters competitive.

Furthermore, he said, the new partnership must enable African countries to secure appropriate technology for industrialisation to enhance accelerated development and to attract increased investment on terms and conditions that fostered the growth of domestic enterprises.

President Kufuor made the call yesterday at a panel discussion of the High Level Segment of the 12th United Nations Conference on Trade and Development (UNCTAD), which is taking place at the Accra International Conference Centre (AICC).

The panellists included the President of Brazil, Mr Luiz Inacio Lula da Silva; the President of Finland, Mrs Tarja Kaarina Halonen; the President of Sierra Leone, Mr Ernest Bai Koroma; the Vice-President of El Salvador, Mrs Ana Vilma Albanez de Escobar; and a former President of Tanzania, Mr Benjamin Mkapa.

They discussed the topic, "Trade and Development for Africa's Prosperity - Action and Direction".

President Kufuor observed that the current partnership between African countries and their development partners had not been helpful to the cause of their development.

"A new deal on aid, trade, investment and technology relations between Africa and its development partners must be buttressed on a principle of development solidarity," he pointed out.

President Kufuor said the new development partnership must also capitalise on the growing South-South trade and economic integration process, adding that Africa ought to anchor that process on regional integration and continental union.

He cited the growing trend of South-South co-operation between China and Africa, India and Africa, and Brazil and Africa and remarked; "I believe that this trend towards South-South co-operation should be encouraged to break the continuing North-South dependency development paradigm".

President Kufuor also stressed the need to strengthen the partnership between Africa and the United Nations (UN) to ensure increased and sustainable contribution from the world body for the development of Africa.

When he took his turn, Mr Koroma said Africa needed to adopt "bold and brave strategies" to enable them to participate effectively in global trade.

He said there was an urgent need for African governments to declare zero tolerance for corruption, adding that although such a resolve would challenge vested interests, it would benefit millions of people on the continent.

"We need to take bold steps because we have a lot of catching-up to do," he remarked, and solicited the support of world bodies like UNCTAD in that respect.

Mr Koroma urged African countries to remove obstacles to trade and also reduce the cost of doing business and tariffs on goods, contending that a reduction in tariffs could lead to increased economic activity and consequently, higher tax returns.

For his part, Mr Mkapa said foreign direct investment (FDI) was a key factor to Africa's development and urged African countries to initiate policy reforms that would enable them to attract more investments.

He also called for the establishment of institutions to address the AIDS menace on the continent to reduce the terrible impact of the pandemic on economic growth.

Mr Mkapa called on African countries to be more committed to reducing poverty, saying that development must translate into sustainable wealth creation.
 
He exhorted people he described as Africa reformist leaders "to embrace firmly the courage to lead and the courage to persevere".

In his presentation, Mr da Silva acknowledged the importance of South-South co-operation to the development of trade in Africa and pledged his country's support for that cause.

Mrs Halonen urged African countries to intensify efforts at reducing corruption, and enhancing good governance and democracy, as well as investing in education and information technology to enhance their economic growth and development.

She made reference to Nokia, a mobile telephone manufacturing company in Finland, saying that the success story of the company was "education, education, education".

For her part, Mrs Escobar also gave credit to education as the key to the success of her country's development.

Earlier in an opening remark, the UN Secretary-General, Mr Ban Ki-moon, stressed the need for a rapid breakthrough in South-South co-operation to promote Africa's development.

He said the alarming increase in global food prices was undermining the attainment of the Millennium Development Goals (MDGs) by many African countries and called for support from the international community to address the problem.

Story by Kofi Yeboah