Govt Committed To Reducing Illiteracy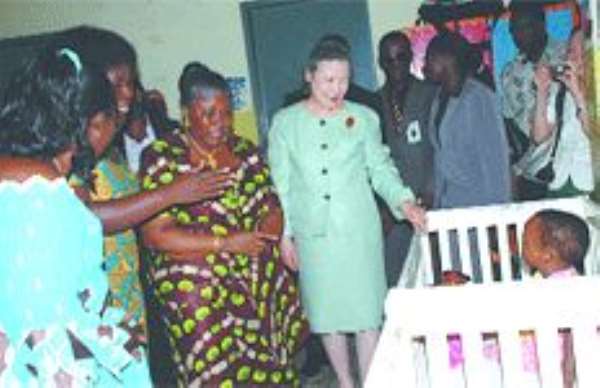 The First Lady, Mrs Theresa Kufuor, has said that the promotion of Universal Basic Education and the move to reduce the level of illiteracy by half by 2015 is very high on the government's agenda.
She has, therefore, commended the United Nations Children's Fund (UNICEF) for the role it has so far played in the promotion of children's education in the country.

Mrs Kufuor said this when Mrs Ban Soon-Taek, wife of the United Nations Secretary-General, called on her at her office in Accra yesterday.

The two also visited the Osu Children's Home where they interacted with the caregivers and children.

The visit to the home was at the request of Mrs Ban, who expressed the desire to visit a nursery or children's home during her visit to the country with her husband who is attending the ongoing UNCTAD XII conference in Accra.

According to the First Lady, children at the home were equally educated to keep them out of the streets and also to ensure that they were not left out of the development drive of the country.
Mrs Ban for her part commended President Kufuor for the development progress Ghana had achieved so far.

At the children's home, she said she was impressed with the level of dedication and commitment that the caregivers were giving to the children.

Her entourage, which included officials from UNICEF, took her and the First Lady to the Children's Department of the home and the E-learning centre situated within a two-storey block built and furnished by the International Central Gospel Church.

The Deputy Minister of Manpower, Youth and Employment, Mrs Frema Osei Opare, who welcomed the First Lady and Mrs Ban to the children's home, said the government's policy on orphans and vulnerable children (OVC) was to ensure that such children were reintegrated into communities where they could develop their full potential.

She said the home aimed at creating a more homely atmosphere for the children so that their reintegration into the larger communities did not affect them.

UNICEF after the visit donated assorted drinks, biscuits, a bag of rice, two bags of fortified soya, T-shirts, caps and pocket diaries to the home.

The home, which currently has 155 children between the ages of four weeks and 23, was established in 1949 by some private individuals before it was taken over by the government in 1962.

Story by Rebecca Quaicoe Duho