Peter Assandoh Lived boxing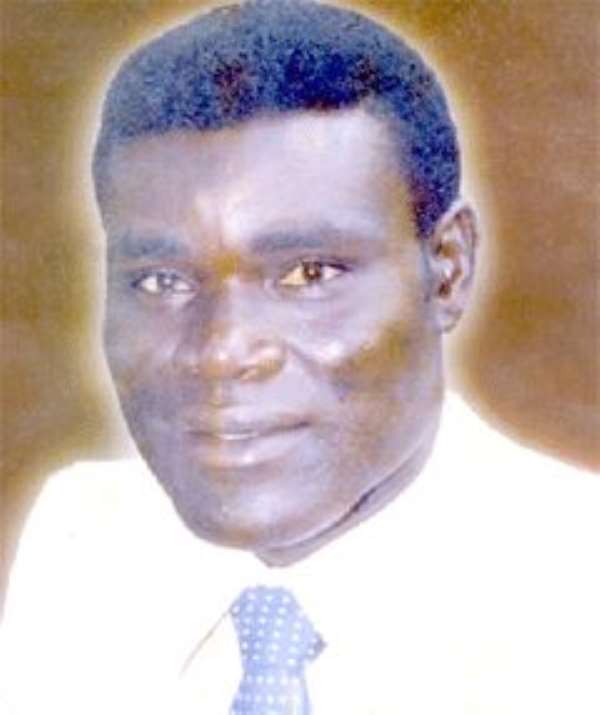 Never in the history of the governing board of professional boxing in Ghana has a sitting member died in active service.
That is why the sorrow that gripped all serving members of the current board of the GBA on picking up the news of the exit of our beloved colleague and Technical Director, Peter Essandoh, from this ethereal sphere will take a long time to wane.

To us on the board in particular, and the boxing fraternity in general, Peter or Uncle Peter as he was popularly called was a fierce prize fighter when he campaigned in Ghana and in Europe from his base in Italy from 1966 till 1987 when he retired from the paid ranks.

As a trainer of trainees, his ability to impart knowledge and elicit the appropriate responses from the student coaches he trained is epitomized by the nickname they bestowed on him: "Anatomy" Methodology".
The records have it that Peter boxed as an amateur in the amy and was a member of the Black Bombers team in the late 60's.

Indeed, he recounted to me in a delightful tone how the veteran boxing trainer, Ginger Adac Fio, who trained Klutei Robertson encountered him in the gym and roared with profound admiration at his fluid defensive style of blocking blows with his wrist before launching an attack all in one swift menacing movement.

Ginger took to Peter instinctively and polished those tight defensive abilities that turned the young promising Ghanaian boxer into the El Hercules Nero (The Black Hercules).

Within the Italian and European boxing rings, for well over 16 years (1971-1987) with well over 50 professional fights under his belt, including a double header with Maria Romeri and world No. 1 rated middleweight, Domenico Tibera, all in one memorable spring night in 1976, Peter returned to Ghana to square up with local boxing idols Scorpion Ofosu and George Aidoo.

Each of these fights still resonate in the minds of boxing afficionadoes.
Legacy

A true patriot of the land, Peter never turned his back on the sport that had served him so well when he was called upon to take up the task of helping to actualize the GBA's corporate strategic policy of sending boxing to the regions through a regional outreach programme launched in 2002 and 2003.

His performance in Cape Coast yielded Nana Banyin Bee and Ali Alabi as local boxing heroes and compelled the GBA to nominate him for a Trainer of Trainees course in Italy in October 2002.

It was a mark of his innately brilliant intellectual capacity that Peter emerged with a first class Diploma Certificate from the "Fedesioni Pugilistica Italiano (Italian Boxing Federation), topping a class of 40 students from 32 countries.

At the prodding of the GBA, Peter was employed by the then Ministry of Youth and Sports as a Technical Director and produced a teaching manual for trainers which he employed to conduct the inaugural preliminary coaching course for boxing trainers in 2004.

Significantly, it is those 18 coaches drawn from the entire country whom he again took through a refresher programme in 2006 who now handle most of our professional and amateur boxers in the gyms scattered around the country.

Thus, Peter's abiding legacy lies in the laying of a solid technical foundation for a scientific development of the sport he loved so much, and like a thoroughbred pugilistic legend he talked the talk and walked the walk.

To Kpakpo, Akaba and Herbert Quartey he was the supreme trainer; to Akai Nettey, Ottu, Ako, Carl and Quaye he was the quintessential trainer of trainees.

To his wife and children he was a loving and fearless father; and to his country he affected resolute and dedicated service.
For all this Peter, Sammy, Peter, J.A., Dr. Sonne, Okoe Odamten, Teddy and Atta Eddie are all eternally grateful.
Peace Perfect Peace,
In this Dark World of Sin,
The Blood of Jesus Whispers Peace within.

These words by the Methodist Hymnist best represent the peace and quiet that our friend, brother, father and Technical Director, Peter Essandoh, is now experiencing as he reclines in the restful bosom of our risen Lord.

For us on the board of the GBA, Peter's almost four years of fierce battle with ill-health was one which he fought with the same indomitable and irrepressible spirit which he displayed within the paid ranks at the peak of his career.

Death may have snatched him away from us physically, but our joy is made complete in the knowledge that in the promise of eternal life through the death and resurrection of our Lord Jesus Christ, we possess the KO punch.
And so we can sing with the Hymnist again:
Peace Perfect Peace
Earth Sorrows Shall Cease
The Blood of Jesus Whisper's Peace

Peter, nantsiw yie
Uncle Peter, da yie
Black Hercules, demirifa due

By Moses Foh-Amoaning
Chairman, GBA