I EAT ALAN •Kuuku The Chiwawa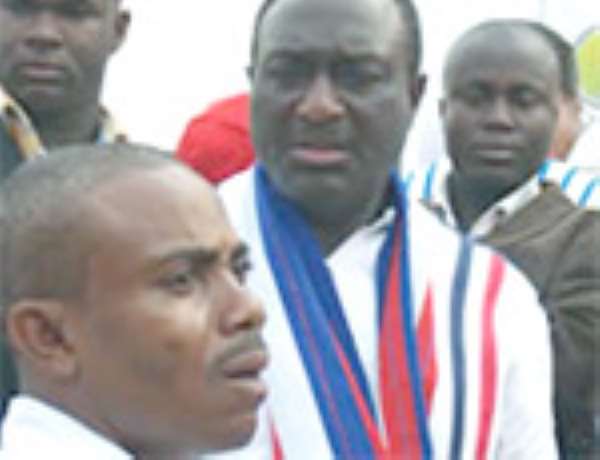 Kuuku Welsing-Jones, the sacked editor of The New Vision newspaper, has revealed that meeting his former employer, John Alan Kwadwo Kyerematen was the greatest thing that ever happened to him.
The former editor, whose dismissal from office was confirmed by John Kumah, Alan's special assistant, virtually thanked heavens for being fired, saying it saved him from becoming a fanatic.
Kuuku had since complied with the directive to 'vacate the newspaper offices with immediate effect'.
Speaking on Citi Fm yesterday, Kuuku said he was so much infatuated with the New Patriotic Party (NPP) presidential aspirant that he thought more about him than his (Kuuku's) own immediate family.
He described his former boss as the most exciting Ghanaian politician in the last 15 years and stressed that some of Alan's colleagues in the ruling party were jealous of him because they saw him as a potential leader.
Kuuku, who claimed he had not incurred any financial loss as a result of the dismissal, said all he was doing to boost the presidential aspirations of Kyerematen was 'just jaara'.
He thanked the one-time Trade, Industry and PSI Minister for saving him from becoming a fanatic, in the nick of time, even though he conceded that Alan had made him a hero.
According to him, on the day Alan resigned from the ruling party he received over 100 phone calls, which ordinarily would not have happened.
Kuuku had earlier denied that he had been fired when DAILY GUIDE contacted him on Sunday, saying that Alan did not employ him.
"Alan is not the owner of The New Vision", he had stated.
Confirming the dismissal, John Kumah said no reason had been given for the action but stated that the decision had been officially communicated to Kuuku.
Mr. Welsing-Jones was summarily sacked over the weekend for making statements on radio that were viewed as further deepening the rift between NPP and Alan, whose resignation from the party had created a huge furore.
As one of Alan's former spokesmen, he had stated that if he were the politician he would never return to the NPP fold.
The mode of his dismissal was not too different from that of Victor Smith, former aide to ex-President Jerry John Rawlings; in that, while Victor who had been nicknamed 'the Alsatian' lost his job via a text message on his mobile phone, Kuuku who had been named 'the chiwawa' for his screeching voice, was fired via a telephone conversation.
DAILY GUIDE gathered that he initially resisted when word reached him that he had been dismissed, saying he had already produced the day's edition of The New Vision, but his employer was not ready for any further explanation.
As a nephew to the politician, he was said to have incurred the wrath of his boss with some "unguarded utterances" on radio, many of which were ethnocentric.
Even though Alan was said to have reprimanded him over those comments, the last straw that broke the camel's back was when he alleged on Joy FM's Newsfile programme that he had received an SMS text message from an unnamed source suggesting that the deputy Upper East Regional Minister, Agnes Asangalisa Chigabatia was being hounded simply because she supported Alan; only for the woman to deny the allegation later on air.
A furious Mrs. Chigabatia, MP for Builsa North, called into the programme dismissing the claim, saying that her support was for the party, and not for any individual.
The New Vision newspaper was established by Alan last year in the wake of his presidential campaign.
Alan tendered his resignation letter on Thursday to the National Chairman of NPP, Peter Mac Manu, claiming that his supporters were being intimidated.
By Bennett Akuaku