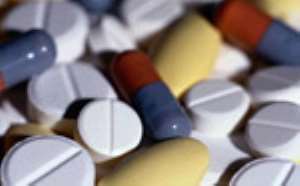 DISTURBING reports from the Ghana Health Service (GHS) indicate that out of the 60,000 persons currently living with AIDS in the country, only 12,000, representing 19 percent are on Anti-Retroviral Drugs (ARVs).
This therefore goes to explain that as many as 48,000 Ghanaians with full-blown AIDS cannot afford the cost of the drugs, hence their inability to access them.
According to the information, new HIV infections, particularly among the youth also keep rising each passing day, with those between ages 15-24 being the worst affected.
Mr. Charles Sam Acquah, National Chairman of the Coalition of NGOs in Health, who gave the figures at a public forum in Accra last Friday, cautioned that Ghana would be unable to meet the Millennium Development Goals (MDG6) in 2010 if immediate steps are not taken to reverse the situation.
The forum, dubbed "Service Liberalisation: Private Gain, Public Pain", was jointly organised by the National Coalition Against Privatisation of Water, Ghana National Education Campaign Coalition and the Coalition of NGOs in Health.
It was among other things aimed at drawing government's attention to the repercussions of engaging private participation in the management of public sector services.
Mr. Sam Acquah also bemoaned the rate at which Ghana's maternal and infant mortality rates keep rising despite the various interventions adopted by government to stem the tide.
According to him, the MDG 4, 5 and 6 which seek to ensure the reduction in Child Mortality, Improved Maternal Health and Combating the spread of HIV, Malaria and other major diseases by 2015, could not be realised considering the numerous challenges confronting the health sector.
He noted that Ghana's health sector today is faced with not only the problem of inadequate skilled medical personnel but inadequate proper healthcare facilities and the exodus of health workers also.
He said engaging the services of the private sector in the management of public sector services would rather go to make matters worse especially for the Ghanaian poor.
This, he explained, is because the poor in society do not have the means to afford the cost of services provided by the private man since "he is solely here to make profits".
Mr. Acquah mentioned for instance that the private manager could take steps to ensure the production of quality drugs at affordable prices so as to ensure all Ghanaians, irrespective of one's economic background, have access to good health.
By Grace Dartey