They Look Beautiful, But…!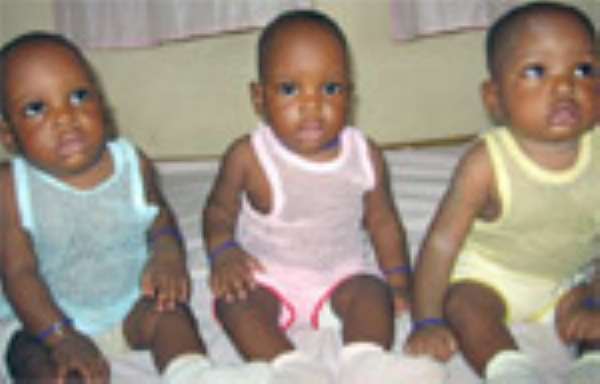 THESE BEAUTIFUL identical triplets - Jeffery, Humphery and Alfred Lamptey - were delivered by Mrs. Vida Lamptey on Saturday September 29, 2007 at JoPart Hospital, a private healthcare centre at Dworwulu in Accra.
Though their birth attracted lots of good wishes from well-wishers, the economic challenge presently facing the parents could affect their proper up-bringing if aid is not extended to them.
They are currently based at Teshie Tsui Bleoo, an Accra suburb.
Mr. Edmund Lamptey, the father of the children, told HEALTH MATTERS in an interview last Friday that though the birth of the triplets was a symbol of good omen for the family, they could end up not discovering their full potential, considering the family's current financial constraints.
"Despite this, we would still do our best to cater for them, but we would appreciate it if the public comes to our aid to help in their upkeep."
He said the family at the moment is struggling to raise an amount of GH¢400 for Jeffery, the eldest one, to undergo a surgical operation to correct an unusual deformation of his genital organ at the Korle-Bu Teaching Hospital.
He answered in the negative when asked whether he would allow for an adoption if need be, explaining they might end up not receiving the same love they would receive from their biological parents.
"Let me take this opportunity to advise couples who are finding it difficult to take seed not to lose hope because the God who blessed us with these beautiful children will certainly do it for them at the appointed time," he said.
The triplets are the first babies of Mr. and Mrs Lamptey since they got married a few months ago.