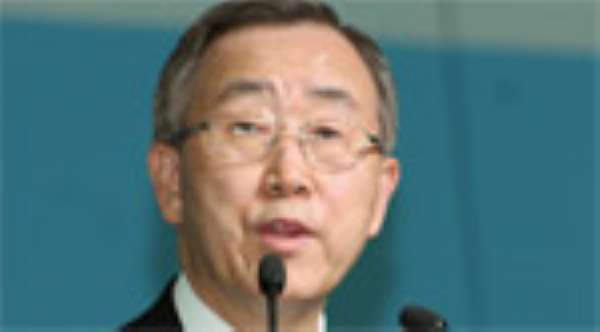 The United Nations will put in place a high-powered taskforce to deal with the global food crisis, Ban Ki-Moon, the Secretary General has announced.
Speaking at the opening session of the UNCTAD XII conference in Accra, Mr Ban said the taskforce would deal with the long-term food security, agricultural policies, financing, markets and all causes of the crisis.
World prices of food have gone up by half and are rising on a daily basis, leading to protests in Haiti, Egypt, Cote d'Ivoire and Burkina Faso, among other countries.
Mr Ban urged the international community to redouble efforts at addressing the situation.
He pointed out that global economic growth could suffer if the food crisis is not handled with the seriousness it deserves.
High oil prices, which have resulted in increasing transportation cost, the continuous fall in the value of the US dollar as well as changes in the global consumption pattern, are some of the reasons being cited for the crisis.
"One thing is certain, the world has consumed more than it has produced," Mr Ban said.
To respond to the crisis, the World Food Programme intends to raise$750 million annually to feed 73 million people in 80 countries.
"We must make no mistakes, the problem is big. If we offer the right aid the solutions will come."
On globalization, Mr Ban said while the process has chalked some successes, transforming the economies of some developing countries, it has also led to the marginalization of the majority of the people.
He also touched on the Millennium Development Goals and warned that the world risks losing the progress that has been made in the past seven years in attainment of the goals.
Meanwhile Brazilian President has blamed rising oil prices for the current global food crisis, saying biofuels are not the problem.
Luiz Inacio Lula da Silva said rising oil prices are pushing up freight costs which, in turn, affect world food prices.
"Ethanol production has not contributed in any way to the food price crises," Mr da Silva reiterated in Accra, where he is attending a three-day UN Conference on Trade and Development.
"It is the oil prices that have brought about high freight charges on the transportation of food."
However, the UN body has criticized Brazil for encouraging its farmers to grow biofuels including sugarcane, castor beans and corn, instead of traditional food crops.
The UN body says the shift is a factor in the reduction of food production. Mr da Silva has said there is enough land for production of both food and biofuels, especially in Africa.
To solve the global food crisis, Mr da Silva said rich countries should remove their subsidies on agricultural production and give financial help to poor countries.
From Business Desk