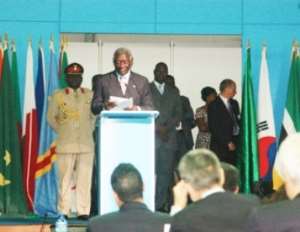 President Kufuor addresses UNCTAD XII Participants in Accra
President John Agyekum Kufuor of Ghana, has underlined the need for the partnership between African countries and the United Nations to be reinforced and strengthened to address multiple development challenges facing the continent.
"This change will enable the UN system increase and sustain the substantial contributions it is already making to promote the development aspirations of developing countries and also help them achieve the Millennium Development Goals by 2015," he noted.
President Kufuor was contributing to the High-Level Segment of UNCTAD XII meeting in Accra yesterday under the theme: "Trade and Development for Africa's Prosperity-Action and Direction".
He called for a change in the development partnership between African countries and their development partners adding that "a new deal on trade, investment and investment technology relations between Africa and its development partners must be buttressed on a principle of development solidarity".
This partnership, President Kufuor said, must be of share goals in which African countries will be assisted to secure adequate financial assistance to support development and trade infrastructure, gain flexible and differential treatment in trade agreements, secure access to appropriate technology for industrialisation among other things.
President Kufuor said the new development partnership must also take advantage of the growing South-South trade and economic integration process to break the continuing North-South Dependency Development Paradigm which led to the formation of UNCTAD.
The President recalled that the 11th UNCTAD meeting in Sao Paolo devoted much time to discuss Brazil, China and India, countries which exploited the positive aspect of globalisation to record phenomenal growth in trade and development and have become important hubs within the global trading system.
He said these countries have become great examples to other developing countries which must meet the challenges of Globalisation. "While there are no standard prescriptions for development for all time for all countries, there are certainly very important lessons that can be learned from the successes of Brazil, China and India, He noted.
The United Nations Secretary-General, Mr. Ban Ki-Moon said the alarming rise in global food prices has complicated efforts by developing countries to attain the Millennium Development Goals (MDG) by 2015. He said "high food prices threaten to undo the gains so far achieved by countries in fighting hunger and malnutrition."
The UN boss noted that more than half of the period set for attainment of the MDGs has elapsed and many countries are lagging behind, especially in Sub-Saharan Africa, and added that "Sub-Saharan Africa, is most at risk – here not a single country is on track to meet all the MDGs by 2015".
This development calls for a substantial increase in investment and expenditure in agriculture, which underscore the importance in pushing for an open trading system in agricultural commodities to benefit countries around the world, Mr. Ki-Moon said.
He urged all to consider taking bold measures to guarantee affordable food to the poorest of the poor, adding that providing food for women and children must be the priority of the world.
Mr Ki-Moon disclosed that the World Food Programme has already issued an "extraordinary emergency relief appeal" for $755 million to sustain food rationing to some of the world's most impoverish regions.
He commended Ghana for making significant stride in increasing primary school enrolment.