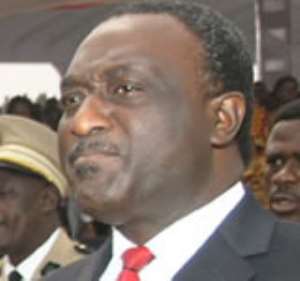 Last Thursday's (April 17, 2008) announcement in the global Ghanaian media regarding the resignation of Mr. Alan Kwadwo Kyerematen came as quite a shock to me, personally, being that the Kyerematens are a distinguished family for whom I have great respect and admiration.
First of all, I underwent my official grooming in Ghanaian culture, in general, and Akan culture, in particular, at Anokyekrom of the Ghana National Cultural Center, in Kumasi. And for those of our readers who may not be aware of this rather basic and almost pedestrian historical fact, it was Dr. Alex Kyerematen, Alan's father, who founded the world-renowned Ghana National Cultural Center (GNCC), originally called the Asante Cultural Center (ACC). The Center, established in 1956, or thereabouts, was also a seminal institution of its kind in modern Ghana.
Later on, I would also learn to my utmost delight, after having been featured a couple of times on the Ghana Broadcasting Corporation (GBC-2) program titled "Variety Ahoy!" which was hosted by Mr. Godwin Avenorgbo, from Anokyekrom, the Accra Arts Center, and a few other locations scattered across the country, that, indeed, the paternal grandparents of Mr. Kyerematen, of Asante-Akyem Bompata, had also been fast friends and virtual kin with my maternal grandfather, the Rev. T. H. Sintim, of Akyem-Begoro, Asiakwa and Asante-Mampong. I would also learn that even a close kin of the Kyerematens, Dr. Christina Amoako-Nuamah and I were also kin; cousins, to be precise, although I have yet to meet this brainy woman in person. I also fervently pray that by the time that I get to meet her, Dr. Amoako-Nuamah would have thoroughly washed and rinsed, and also thoroughly ironed out whatever kinks may be left of her unfortunate ideological encounter with the sinister opposition Provisional National Democratic Congress (P/NDC).
And just exactly how am I related to the former P/NDC cabinet member? It is simply that Dr. Christina Amoako-Nuamah's father was also the beloved nephew of the Rev. T. H. Sintim. And at this juncture, it is also worth noting, at least in passing, that I have often been accused by my siblings of being near-pathologically obsessed with kinship; some of them have even sarcastically implied that I claim to be related to almost every Ghanaian, regardless of ethnicity or creed. And, of course, I stand immutably and unapologetically guilty as charged.
Needless to say, since Mr. Alan Kyerematen reportedly tendered his resignation to the ruling New Patriotic Party (NPP) headquarters, yours truly has been in a virtual daze. And just last night, for example, I had a dream in which I was visiting a location that looked pretty much like Anokyekrom of the Ghana National Cultural Center and chatting heartily and, even, raucously with Brother Kwadwo, whom I have never even once personally encountered. I guess it had something to do with having sunk into a deep sleep while cognitively saddled with the leaden burden, as well as the dire implications, of the abrupt resignation of the former Trade and Industry Minister.
During our hearty oneiric – or dreamful – chat, however, the question regarding his emotionally discombobulating resignation never came up. Even so, what has delighted me the most to read about is an article titled "Alan Fires Welsing-Jones," which appeared on Modernghana.com (4/22/08), and which was sourced to the Daily Guide. The Caption of "Alan Fires Welsing-Jones" piqued my interest far, far less than the contents of the article itself, particularly those portions which directly verged on the resignation of Mr. Kyerematen. The portion that especially piqued my interest was an extract from Mr. Kyerematen's resignation letter which stated emphatically, among other things, that: "In spite of my current decision, I wish to affirm [the fact] that I remain faithful to the ideals, values and principles underpinning the party's tradition" (Modernghana.com 4/22/08).
Needless to say, the "Tradition" alluded therein is the august and unimpeachable Danquah-Busia ideology of democratic neo-liberalism. It is the latter Tradition that has been singularly and incontrovertibly responsible for the placid and auspicious democratic dispensation which currently prevails in Ghana, vacuous and vehement P/NDC protestations notwithstanding. For other than the brief, chaotic tenure of the Nkrumah-leaning People's National Party (PNP), headed by Dr. Hilla Limann, the only ideological suasion with a remarkable legacy of democratic governance and culture in postcolonial Ghanaian history is, indisputably, the Danquah-Busia Tradition. The Neo-Nazi (or New-Nationalist) Nkrumah regime of the CPP crudely mixed Fascist Dictatorship with Populism.
In quite a great sense, therefore, I share the frustration and disappointment of Mr. Kyerematen over the apparently curious inability of the ruling New Patriotic Party to quickly close ranks in order to solidify the salutary and unprecedented gains registered under the Kufuor Administration, in the grim and eerie face of the looming threat of a troglodytic political re-takeover by the unalterably benighted Provisional National Democratic Congress (P/NDC). Perhaps the ideological children and grandchildren of the Danquah-Busia family need to be constantly reminded, on a second-by-second basis, of the unremitting realities of fate which awaits them, should any of them commit the unforgivable blunder of allowing the satanic worshippers of the P/NDC to entrench themselves, once again, in our hallowed corridors of power.
I also fervidly sympathize with Mr. Kyerematen because just this past February (2008), Nana Adjei-Yeboah, First Vice-President of NPP-USA gave me an at once devious and "diplomatically crude" phone call and readily succeeded in forcing me to resign from the then-newly constituted Media Committee of the NPP-USA, primarily because I had dared to "counter-insult" a couple of chicken and shyster lawyers – specifically a Dr. Agyenim-Boateng, of Kentucky (Fried Chicken), and the latter's criminal collaborator, a Mr. Dean Sarpong, of Washington, D.C. – who had cynically and viciously impugned my being purely ceremonially accorded the title of Treasurer of the NPP-USA Media Committee.
Interestingly, when initially invited to join the NPP-USA Media Committee, Prince Osei-Bonsu, an NPP-USA executive member, had intimated his intention of having yours truly chair the Media Committee.
In any case, I am inexpressibly grateful to have been summarily pushed out of the NPP-USA Media Committee; and for maximum effect, I had also called Mr. Kofi Boateng, an unquestionably fine and affable personality for whom I have great respect, almost verging on reverence, and promptly and verbally tendered my resignation. I also delightfully chucked my Party Membership Card into the garbage, thus lifting the hefty burden of "Party Line" off my shoulders, though not altogether. For deeply etched in my mind, heart and soul, is the unquenchably patriotic desire to have the NPP continue to stay put in democratic power until such time as a viable, progressive, people-sensitive and trustworthy alternative to the NPP emerges.
Still, in the case of Mr. Kyerematen, this major political player is rather too significant for the salutary maintenance and stable development of democratic Ghanaian culture to be allowed to so prematurely disengage. On the other hand, and relatively speaking, Kwame Okoampa-Ahoofe, Jr., is a veritable and incontrovertible nonentity. And I am self-assured in my relative insignificance as a matter of fate; and I do not intend to ever rejoin the rank-and-file membership of NPP-USA; for, needless to say, neither my presence nor absence in the Party is of any ideological or electoral moment. Besides, I am too fiercely independent in my thought and my cause for unfettered justice to readily and slavishly toe the proverbial party line.
Please, Brother Kwadwo Alan, kindly rejoin your Danquah-Busia brethren and help make Ghana the remarkable economic and cultural success story that you have helped in making it for the past eight years! For my part, I have absolutely no choice, whatsoever, but to support Nana Akufo-Addo (I would happily have done the same for you) in the inviolably righteous cause of Ghanaian Democracy.
Long Live Ghana! Long Live the Good and Well-Meaning People of Ghana! Long Live the Unquenchable Property-Owning Democratic Dream of the Children of Danquah-Busia! Long Live the Pachyderm!
*Kwame Okoampa-Ahoofe, Jr., Ph.D., is Associate Professor of English, Journalism and Creative Writing at Nassau Community College of the State University of New York, Garden City. A former member of NPP-USA, Okoampa-Ahoofe, Jr., is the author of 15 books, including "Dr. J. B. Danquah: Architect of Modern Ghana" (iUniverse.com, 2008). E-mail: [email protected]