JAK, JJ Make Love •As Kufuor Calls For Fair Trade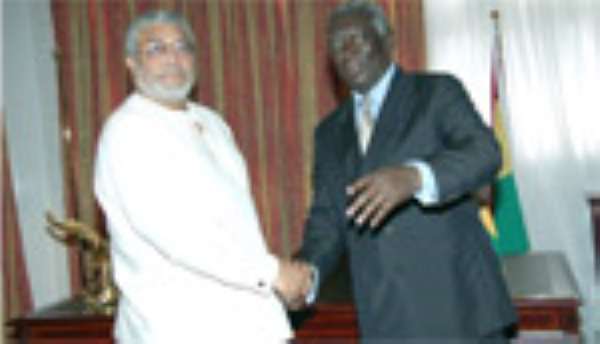 THE HITHERTO frosty relationship between President John Agyekum Kufuor and his predecessor Jerry John Rawlings gradually seems to be thawing, as the two have recently met face-to-face and exchanged pleasantries in public.
The first was at a state dinner held in honour of US President George Bush who was on an official visit to the country last month.
Yesterday, the two prominent statesmen met once again, exchanged pleasantries and jokes, and posed for the cameras while smiling broadly, at the 12th United Nations Conference On Trade and Development (UNCTAD XII) in Accra.
The heartwarming encounter took place about 30 minutes before the conference was officially opened, when the former President paid a courtesy call on his successor at the improvised VVIP lounge of the Accra International Conference Centre, the venue for the week-long meeting of some world leaders and civil society organisations.
The two personalities then asked each other some questions regarding their state of health while firmly holding hands for minutes.
Earlier, the President of Sierra Leone, Ernest Bai Koroma and the UNCTAD Secretary-General, Supachi Panitchpakdi, had also met with President Kufuor, the host of the conference.
Addressing the conference later, Mr. Kufuor advocated fair trade policies as some of the current ones were detrimental to developing economies like Ghana.
World trade policies, he stated, should "prove beneficial to all and detrimental to none.
"The accelerating phenomenon of globalisation has provided hope that an open and more interconnected world will increase opportunities for trade, wealth creation, improved welfare situation of peoples and nations and in the process promote development.
"Countries like Brazil, China and India have made great strides in this regard. This gives hope that with appropriate set of policies the circumstances of other developing countries would be equally improved."
The Ghanaian leader called for special attention to be focused on factors which had serious impact on world trade.
These included fair market access through special and differential treatment, progressive reduction of subsidies by developed nations, South-South Co-operation, aid for trade, official development assistance and foreign direct investment.
"These factors which impact directly on the productive and trade capacities of developing countries, and enable them to participate meaningfully in the world economy, must each be accorded its place in our scale of priorities.
"This must be done in a spirit of purposefulness, tolerance and flexibility; in the light of the general acceptance that mankind is fated to live in an inter-dependent global village."
President Kufuor made references to Tony Blair, former British Premier's statement that "Africa is a scar on the conscience of mankind" and the UN Secretary-General's "Africa is the epicenter of a development emergency", and asked the world to help find solutions to the challenges of the continent.
"It is certain that if the international community continues to defer finding credible solutions to long-standing problems and unfinished businesses, it will be condemning itself to facing even more complex and intractable issues on development in the future."
The Brazilian President, Luiz Inacio Lula da Silva, whose country hosted UNCTAD XI, said it was the responsibility of all to find solutions to challenges confronting smaller nations.
In his opening address, UN Secretary-General Ban Ki-Moon who described the conference as one of the best economic transformations in history, said hundreds of people continued to wallow in poverty.
He complained about the sky-rocketing prices of food and petroleum, which he said threatened international trade and food shortages.
He stressed the need for the leadership of the international community not to sit unconcerned but come out with a strategy to address the global challenges.
As a first step, he announced UN's preparedness to establish a Commission to address these issues.
According to the UN Boss, the world produced less than it consumed and called for increased food production.
By Sylvanus Nana Kumi & Sheilla Sackey