Alan Strikes •Sacks Kuuku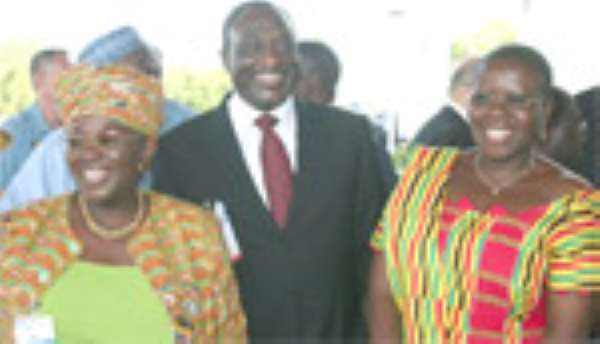 As moves to get Alan Kyerematen back on board the New Patriotic Party (NPP) intensify, information reaching DAILY GUIDE indicates that the former Trade and Industry Minister who quit the ruling party last week has fired the editor of his newspaper, Kuuku Welsing-Jones.
Kuuku, who has been editing The New Vision, established by Alan for his political campaign last year, was directed by the defeated presidential aspirant to vacate the newspaper offices with immediate effect.
Reminiscent of the dismissal of Victor Smith, aide to former President Jerry John Rawlings through a text message, Kuuku was fired through a telephone conversation.
DAILY GUIDE learnt that Alan, who has been under pressure since he resigned his membership of the ruling party, on Saturday afternoon ordered Kuuku, who doubled as his unofficial spokesperson, to lock up The New Vision Osu offices and hand over the key.
Kuuku was initially said to have resisted, saying he had already produced today's edition, but Alan was not ready for any explanation.
The New Vision editor, who is a nephew to the publisher, was said to have incurred the wrath of his boss with his "unguarded utterances" since Alan's resignation hit the headlines on Friday.
Even though Alan was said to have reprimanded him over his ethnocentric comments, the last straw that broke the camel's back was Kuuku's statement on Joy FM's Newsfile programme where the dismissed editor dropped further names of Alan supporters allegedly being harassed in the NPP.
Mr. Kyerematen quit the NPP, citing alleged intimidation and harassment of people who supported his presidential bid without necessarily dropping names.
But Kuuku claimed on Newsfile that he had received SMS text message from an unnamed source suggesting that the Deputy Upper East Regional Minister, Agnes Asangalisa Chigabatia was being hounded simply because she supported Alan; only for the woman to deny the allegation later on air.
A furious Mrs. Chigabatia, MP for Builsa North, called into the programme dismissing the claim, saying that her support was for the party.
"Why are we practicing politics in this way? This is not true. I challenge the text message; if we get the number we would get the one who sent it," she charged.
When contacted yesterday, Kuuku denied that he had been fired, claiming that The New Vision does not belong to Alan. "Alan does not own the paper," he said.
Meanwhile, DAILY GUIDE has reliably been informed that Alan would soon rejoin the party as a mediation team looks at his grievances.
Alan tendered his resignation on Thursday to the National Chairman, Peter Mac Manu, who was on his way to Australia and copied President John Agyekum Kufuor, the flag-bearer, Nana Addo Dankwa Akufo-Addo, and General Secretary, Nana Ohene Ntow, claiming that his supporters were being intimidated.
Alan's letter to Mac Manu read:
"I have been deeply concerned about development in our party and have discussed some of the issues extensively with your good self and other members of the party.
In spite of these concerns I was hoping we could move forward to advance the success of the party.
However repeated reports coming from the various constituencies throughout the country point to open attempts to intimidate and alienate some members of the party including some sitting members of parliament who supported my flagbearership of NPP.
This I believe undermines the unity of the party.
It is sad to note that even my recent efforts to embark on a 'thank you' tour of various constituencies during which I took the opportunity to call for peace and unity in the party has been misconstrued in certain quarters within the party, leading to all kinds of negative propaganda.
Under the circumstances, Mr. Chairman, I am compelled, regrettably to hereby resign my membership of the party with immediate effect.
In spite of my current decision, I wish to affirm that I remain faithful to the ideals, values and principles underpinning the party's tradition.
I hope that at the appropriate time when the need arises or when circumstances permit, I would rejoin the ranks of the party."
By Fortune Alimi