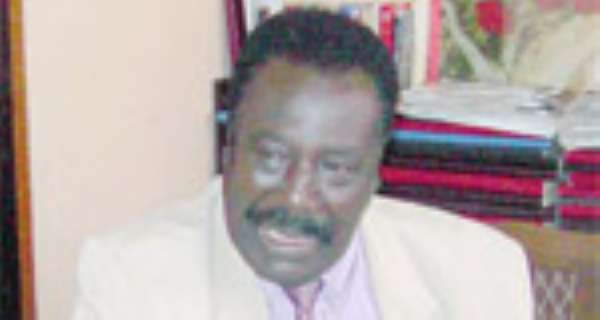 Dr. Chris Asher (Snr), a known critic of military regimes and a foremost journalist/publisher has passed away at the 37 Military Hospital, Accra where he was on admission for a heart ailment and gout.
He died at about 10am last Thursday.
Before he finally went into exile in the United Kingdom, the late Chris Asher published the Palaver newspaper, which earned popularity and notoriety for its anti-military regime stance in its editorial policy.
Hailing from Agona Nsaba and Osurase in the Central Region, he also published the Western Tribune in the 1960s.
The late Asher was jailed during the Acheampong regime because of his incessant condemnation of military interventions.
He had a rough time under the Rawlings junta when some elements on 4th December, 1982 stormed his Kanda residence and treated the residence to a hail of gunfire.
Their target however managed to flee the country, making the UK his home for the next 22 years as a refugee.
His passion for publishing did not leave him as he founded the Africa Weekly and World Report in that country.
During his appearance at the now defunct National Reconciliation Commission (NRC) he stunned members of the public who thronged the place to hear his story.
Under the incumbent political administration he set up his Palaver newspaper once more but preceded the name with "Original" to differentiate it from the pro-National Democratic Congress paper.
His younger brother, Chris Asher Jnr, who also had a nasty encounter with the Rawlings' junta and was even incarcerated at the Nsawam Prisons also managed to escape.
When he too was given a "safe passage" to appear before the NRC he testified in the case of the murder of the three high court judges and a retired Army Major.
He made the headlines following the manner in which he made his points when he was cross-examined by Dr. Obed Asamoah.
The two Ashers have thus earned for themselves a certain degree of notoriety and popularity in the political history of Ghana.
The late Asher was survived by Zilpha Mimi Asher, Interior Decorator, London, Barbara Asher, Principal, Commercial Service Institute, Cape Coast, Bernard Asher, Lecturer, Guildford College of Higher Education, Surrey, England, Christian Asher, Accra and Louisa Asher of Sierra Leone.
Burial arrangements would be announced later.
By A.R. Gomda