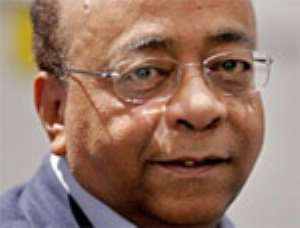 The Mo Ibrahim Foundation is in Ghana with the intention of observing and researching the quality of governance in the country.
Established in October 2006 by African business entrepreneur Mo Ibrahim, the organisation aims to "engage in dialogue in West Africa in support of great African leadership"; and this three-day visit to Accra is officially the first of its kind to the West African region.
The delegation is made up of prominent members of the Foundation Board and Prize Committee including Dr Mo Ibrahim, Founder and Chairman; Dr Mamphela Ramphele, Board member, former Managing Director of the World Bank and former Chair of the UN's Global Commission on International Migration; Mary Robinson, Board Member, former President of the Republic of Ireland and former UN High Commissioner for Human Rights; and Madame Aicha Bah Diallo, Member of the Prize Committee, former Guinean Minister of Education and Special Adviser to the Director General of UNESCO.
Dr Mo Ibrahim commented: "We are delighted to be visiting Ghana to further develop dialogue around the Foundation's vision of supporting great African leadership. We hope to create partnerships to help facilitate and promote the Ghanaian contribution to the governance and leadership debates currently taking centre stage in Africa."
As part of the visit, the Foundation will give a lecture at the University of Ghana on the vitality of good governance and leadership, becoming involved in policy making and participating in the UNCTAD Global Leaders' Investment Debate.
As the world can't fail to notice, the majority of African countries face harsh leadership challenges in the face of absolute poverty, corruption and human rights abuses.
As Kofi Annan, former Secretary General of the United Nations stated, "Good governance and democracy are central to Africa's development. Without them, it will be hard if not impossible for any African country to reach the Millennium Development Goals by 2015."
To encourage African leaders to follow the winds of change, the Mo Ibrahim Foundation launched the annual Ibrahim Prize for Achievement in African Leadership, which is awarded to a former African Head of State, who has shown exceptional leadership in government.
Chaired by Kofi Annan, the Ibrahim Prize for Achievement in African Leadership offers an award of $5 million to the nominee over five years with $200,000 given annually thereafter.
The first ever recipient in 2007 was former President of Mozambique, Joaquim Chissano.
The Foundation also plans to publish an annual paper entitled the 'Ibrahim Index of African Governance' which will rank all Sub-Saharan African countries in order of the quality of governance each has shown.
This has been created in conjunction with the Kennedy School of Government, Harvard University and the Foundation Board; and it focuses on five critical areas: safety and security, human development, sustainable economic development, participation and human rights, and rule of law, transparency and corruption.
In this way, African leaders have a base to improve their leadership upon, which will significantly improve the lives of many Africans in the future.