Annan demands action on Zimbabwe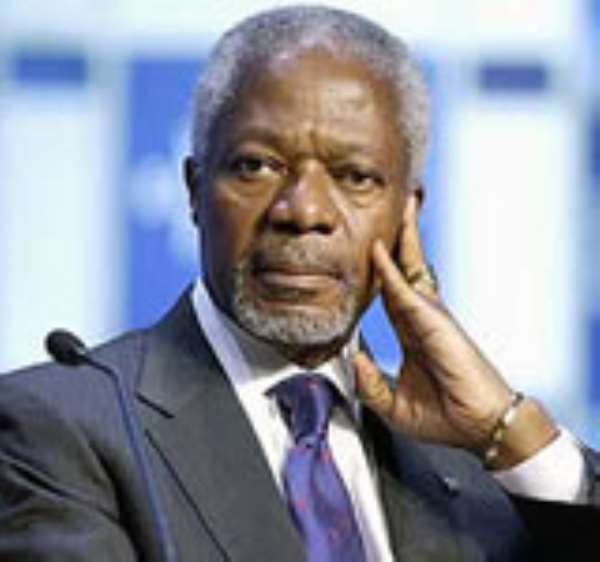 The former UN Secretary General, Kofi Annan, has urged African leaders to do more to address the crisis in Zimbabwe.
He said the situation was dangerous, and could have an impact beyond the country's borders.
Three weeks after polls were held, the presidential result has yet to be declared. Some of the votes in the parliamentary race are being recounted.
The parliamentary vote was won by the opposition, which insists its candidate defeated President Robert Mugabe.
Mr Annan made his comments to reporters in the Kenyan capital, Nairobi, where he held talks with Zimbabwean opposition leaders on Friday.
"On the question of Zimbabwe there has been substantial international attention.
"The question which has been posed is: where are the Africans? Where are their leaders and the countries in the region, what are they doing?
"It is a rather dangerous situation. It's a serious crisis with impact beyond Zimbabwe."
He said action by African leaders had helped resolve the post-election crisis in Kenya, where mediation led to the formation of a coalition government.
"You've just been through a crisis here, and you've managed to solve it, and I must say the credit goes to the Kenyan people, to the African Union - it was an African solution to an African problem," Mr Annan said.
Recount
In Zimbabwe itself, the election commission is conducting a recount in 23 of 210 constituencies that could overturn the parliamentary result which saw Mr Mugabe's Zanu-PF lose its majority for the first time since independence in 1980.
It is thought the recount may also lead to a run-off vote in the presidential poll.
Morgan Tsvangirai, leader of the opposition Movement for Democratic Change (MDC), is adamant he won the election outright.
He has fled the country, saying he fears for his life.
His party has said Mr Tsvangirai will not contest a run-off unless certain conditions are met - such as a secure environment, with thorough international monitoring.
The MDC's secretary general, Tendai Biti, said the party would not accept any recount in respect of parliamentary seats "because ballot boxes have been stuffed".
"Those ballot boxes have become pregnant and reproduced," he said.
Arms shipment
Meanwhile, a Chinese ship carrying arms to Zimbabwe has left a South African port after workers would not unload it.
The An Yue Jiang was forced to move after a South African court refused to allow the weapons on board to be transported across the country.
Dock workers had refused to unload the weapons shipment from the vessel, which had been anchored off the port of Durban for four days.
The South African Transport and Allied Workers Union had said it did "not agree with the position of the [South African] government not to intervene". Reports say the An Yue Jiang is carrying three million rounds of ammunition, 1,500 rocket-propelled grenades and 2,500 mortar rounds.