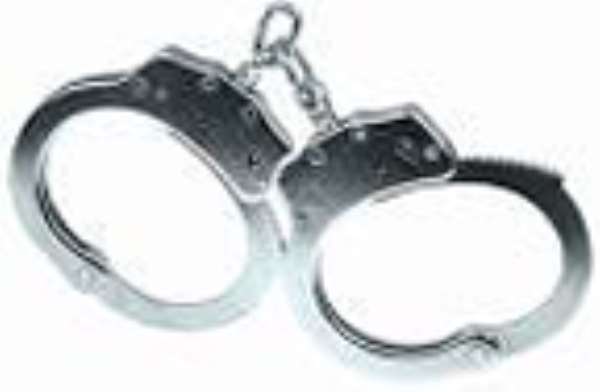 Three persons have been arrested for allegedly defrauding two tourists of nearly 3,000 euros.
The three - Michael Agomavi, Godwin Listowell (who is Agomavi's son) and Christian Agunor - are currently in custody pending investigations.
The modus operandi of the group is that Listowell offers to act as a guide to potential tourists to Ghana.
While in the hotel room of the tourists, other members of the group, including two policemen, currently being sought after, would storm the room on the pretext of arresting them on allegations of being homosexuals.
In the heat of the ensuing melee, the suspects would extort money from the tourists, collect their cameras and cell phones and while purporting to be taking them to the police station, they would hire a taxi to take them back to their hotel.
Listowell was said to have acted as the go-between to all the tourists.
A source close to the Bureau of National Investigations (BNI) told the Daily Graphic yesterday that Listowell contacted one of the victims, a British national, to act as a tour guide when he visited Ghana in October, last year.
It said the victim, who came in the company of a friend to celebrate Ghana's Golden Jubilee as that was also his 50th birthday, were robbed under those circumstances, resulting in the victim petitioning the Attorney-General and Minister of Justice for investigations, as the incident could tarnish the image of the country.
The source said the case was, therefore, referred to the BNI for investigations
It indicated that the BNI contacted the victim through the Internet and accordingly asked him to use a different identity to contact Listowell.
According to the source, the victim sent a different picture of him under the name Greg to Listowell after he responded to an email sent earlier on.
It said the victim notified Listowell that he would be arriving on board a British Airways on April 9, 2008 and requested that Listowell wrote the name Greg and British Airways beneath a paper at the meeting point at the point for identification.
On the appointed day and time, the source said Listowell, in the company of his father, Agomavi, went to the airport to meet Greg.
The source personnel of the BNI arrested Listowell and his father soon after passengers on board the airline started filing out, with Listowell holding the paper as directed by the victim.
It said the two men led the BNI to arrest Christian Agunor after they had allegedly confessed to committing the offence.
The source said the BNI were still looking for the identities of the two policemen and a third person, who were part of the group terrorizing tourists.