Police used paint, not chalk, to mark presidential accident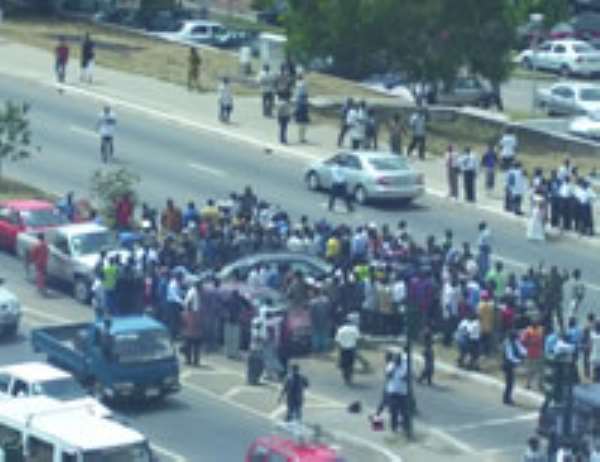 A police officer attached to the Motor Traffic and Transport Unit of the Ghana Police Service told the Accra Fast Track High Court yesterday that the police used paint to mark the scene of accident involving the President.
Answering questions under cross-examination in the case in which Thomas Osei is standing trial for ramming into President Kufuor's vehicle, Sergeant Christian Koda said he was unaware that another police officer had already informed the court that a stone was used to mark the accident spot.
According to Sergeant Christian Koda, who tendered a sketch of the accident that occurred on November 14, 2007, the paint was taken from a painter across the street where the accident occurred.
Osei faces seven counts of use of narcotics, dangerous driving, negligently causing harm, driving under the influence of alcohol, failing to give way to a Presidential convoy and failing to effect change of ownership of vehicle, to which he has pleaded not guilty.
Osei was first arraigned before the Motor Court on November 16, 2007 and remanded.
He was discharged by the court on Thursday, December 20, 2007 after the prosecution had filed a nolle prosequi (unwilling to prosecute) but he was re-arrested when he stepped out of the court and put before the Fast Track High Court.
Mr Akuffo: What do policemen at the, MTTU take along when going to work?
Sgt. Koda: We usually take along pencils, notebooks, pens and reflective jackets when we go to work.
Mr Akuffo: Are you painters?
Sgt. Koda: We are not painters.
Mr Akuffo: Is it usual for the police to carry paint while at traffic intersection?
Sgt. Koda: No my Lord. When the accident happened there was a painter around so the police officer there collected paint to mark the scene. That is what my colleague told me.
Mr Akuffo: Did he tell you where he took the paint from?
Sgt. Koda: He did not tell me he took the paint from the painter.
Mr Akuffo: So you concocted he took the paint from the painter?
Sgt. Koda: No my Lord. The officer told me after the accident that he collected paint to mark the scene.
Mr Akuffo: Do you know you are telling the court untruths?
Sgt. Koda: No my Lord.
Cross-examination of the witness continues on April 28, 2008.
The facts of the case were that about 11.30 a.m. on November 14, 2007, Osei drove his Mercedes Benz SE 500 saloon car into the rear side of the President's vehicle in the inner lane along the Liberation Link from the direction of Aviance towards the 37 Military Hospital, in spite of the fact that other motorists had been stopped to allow the President's convoy to pass.
The President escaped unhurt.