Kufuor Celebrates Ahmadis Centenary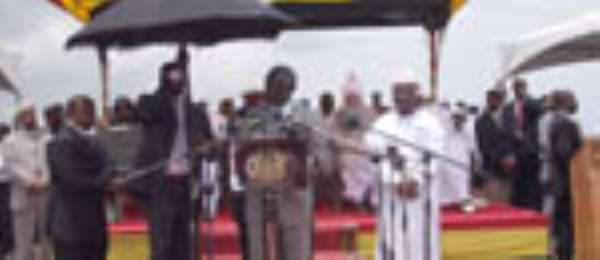 PRESIDENT John Agyekum KUFUOR on Thursday joined thousands of Ahmadis worldwide to mark the centenary celebration at Pomadze in the Central Region.
Speaking on the anniversary theme of "Love For All, Hatred For None", the President asked adherents of all religions to see it as "an obligation to preach a message of peace and love" always.
He said instead of people of different religions fighting one another on doctrinal differences, they should rather fight various deprivations of society which are "our enemies".
These enemies are poverty, hunger, diseases and illiteracy. He said it was refreshing that followers of the Ahmadiyya faith were doing their best to fight "these enemies".
President Kufuor mentioned in particular the uncountable number of educational and health institutions of the Ahmadiyya Mission. "This is a true manifestation of your vision of continued vision of partnership with government".
Mr Kufuor assured the Mission that its complementary role to government's provision of social services would always be remembered, and urged Ahmadis to continue to play their roles towards building a harmonious and peaceful society.
The President was happy that the worldwide Ahmadiyya Mission, like other international bodies, in recent times, had also chosen Ghana as the venue to celebrate its 100 years anniversary.
The choice of the venue, he noted, showed the growing importance the international community had attached to Ghana as a stable country.
The supreme head of the worldwide Mission, Harat Mirza Masroor Ahmad, whose sermon extolled the virtues of honesty, fidelity and sincerity, said he was happy to be back in Ghana, after many years of absence.
These virtues, he said, were the foundation blocks of every society.
He also commended Ghana for many great strides both politically and democratically, adding, "If there is any reference to Africa, I always mention Ghana to the extent that I have almost become an ambassador".
The Spiritual Leader appealed to all to see God as their source of being since "every successful person is one who worships God".
Since truth is one, he observed that people should be ready to suffer a loss or be punished for it unwavering.
In this respect, he reminded Ahmadis to always remember their spiritual duties as well as those they were expected to perform for the nation.
For the youth, the Islamic Cleric encouraged them to "immerse yourselves in the search for knowledge and be brilliant" to move their country to the next level of development.
There were several goodwill messages from various religious and temporal groups.
Among those in attendance were Peter Cardinal Appiah Turkson, Catholic Archbishop of Cape Coast Diocese; the National Chief Imam, Sheikh Ousmanu Nuhu Sharabutu; and Maulvi Wahab Adam, Ameer and Missionary in-charge of the Ahmadiyya Muslim Mission in Ghana.
From Sylvanus Nana Kumi, Pomadze