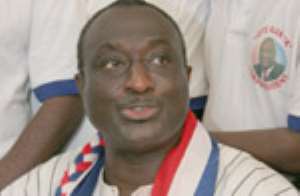 Reports reaching DAILY GUIDE at press time yesterday indicate that defeated New Patriotic Party (NPP) presidential aspirant, John Alan Kwadwo Kyerematen has resigned from the party.
Mr Kyerematen, popularly called Alan Cash, was said to have submitted his resignation letter yesterday afternoon to the office of the National Chairman of NPP, Peter Mac Manu, who is currently out of the country.
The former Minister was said to have stated in the letter that his supporters were being harassed since his defeat at the party's Legon Congress, and therefore he was left with no option than to quit.
Alan however said he would rejoin the party at the appropriate time.
Rumours were rife that Mr Kyerematen was considering standing as an independent candidate in the December presidential polls and that his recent 'thank you' visit to the regions was to actualize that dream.
DAILY GUIDE learnt that since the Legon Congress that dealt him a severe blow, he had been visiting some influential members of the party, complaining about victimization, especially on the congress day, accusing his colleague aspirants of ganging up against him.
Even though it was unclear why he took that decision, some had been agitating for his selection as running mate to Nana Addo.
Attempts to get Alan for comments were unsuccessful.
Alan Kyerematen, a former Minister of Trade and Industry was the runner up at the congress that elected Nana Addo Dankwa Akufo-Addo flagbearer of the ruling party. He was subsequently co-opted into the party's campaign team as Director of Identifiable Groups.
Alan Kyerematen was Ghana's Ambassador to the United States before being recalled to the Ministry of Trade and Industry where he resigned his position as minister in July 2007 to contest the party's flagbearership which he lost to Nana Addo last December.
By Fortune Alimi