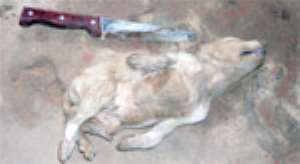 BARELY TWO weeks after a "Man of God" was busted for using juju to attract worshippers to his church, another one is in trouble at Chiraa in the Brong Ahafo Region.
The Head Pastor of the Fountain of Fire International at Chiraa, Prophet Nti Boahen was nearly lynched yesterday by some angry youth after they discovered that the "man of God" attempted burying alive a six-month old white dog at the church premises.

Narrating the incident to the media, an eyewitness, Kwame Frafra said that at around 5:30 am they heard a dog barking 'wow wow' at the premises of the church, while passing by, since there was a path through that place.
Out of curiosity, they enquired from the pastor exactly where the sound was coming from but he did not give any answer.
Frafra said after some time they realized the noise was coming from a hole at the entrance of the church building.
Kwame Frafra told DAILY GUIDE that together with some youth in the area, they managed to rescue the dying dog and retrieved a brand new knife from the hole.
He said when the message reached town, residents of Chiraa started invading the church house to see things for themselves.
When they threatened to lynch the pastor, he took to his heels, towards the police station.
The police had a hectic time controlling the angry youth.
To save the life of the pastor, he was put in cells while the crowd kept on swelling at the forecourt of the police station.
The Station Officer of the Chiraa Police Station, Inspector Sampana declined to speak to newsmen, and asked the media to speak with his boss at the regional Police Headquarters in Sunyani.
Some women who had one way or the other consulted the 'man of God' complained bitterly about how the pastor charged money before praying for them.
As at the time of going to press the 'man of God' was still in police cells at Chiraa while the youth kept on threatening to burn down the church house.
The Sunyani Municipal Commander of Police, Superintendent Botwe said Pastor Boahen told the police that he used the puppy to perform rituals for Nii Tagoe, a member of the church, but was not aware Tagoe had buried the animal at the church premises.
From Eric Bawah, Chiraa