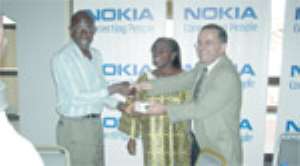 In September this year, the business skyline in Ghana will receive a new entrant when Nokia opens a major outfit in the country.
The decision was informed by the mobile phone manufacturer's belief in the Ghanaian economy, according to their West Africa General Manager, during a product introduction at the M-Plaza Hotel in Accra.
The manufacturer has an accredited agency in Ghana, but the new investment is a completely ballgame with the involvement of a major capital inflow and the building of offices and shops.
Mark Pritchard, the General Manager, was in Accra to introduce the Nokia 2600 Entry Point mobile phone to the Ghanaian market when he dropped the business investment hint.
He described the forthcoming investment as a multi-level one and said "to be number one is difficult because you have to be running to maintain the position."
By the year 2009, there would be some four billion mobile phones in the world, he said, adding that, currently Ghana like other countries in the sub-region is served from the Senegal-based headquarters.
The investment plan when it comes to fruition would change the status of the mobile phone presence in Ghana, creating employment avenues directly and indirectly, he announced.
During an interactive session with the media, the General Manager debunked the oft-held position that the quality of a Nokia phone depends on where it is manufactured.
Explaining, he said, Nokia ensures a uniformed high quality for its products worldwide, adding that currently the Indian outlet is fitted with the most advanced technology for the production of Nokia handsets.
By the end of December, the Finish mobile phone manufacturer, he said, would be holding 40 percent of the handset market worldwide and 60 to 65 percent in Africa.
On the issue of fake Nokia products on the market, he acknowledged the anomaly especially among the N Series and said "it is a matter of concern to the manufacturer", adding that the best thing to do is to rely on accredited agents and avoid others outside the supply chain.
Nokia as a responsible corporate citizen, donated towards the flood victims in the Northern parts of the country when the natural disaster hit them last year.
The Nokia 2600 Classic, the company's Product Manager in West Africa explained, is affordable and has other features like an FM facility alongside bluetooth and others.
As a side attraction during the engagement with the media, the Nokia team which stormed the country from their Nigeria base, made journalists compete in a jingle contest.
Mr. Benjamin Arthur of the Heritage beat A.R. Gomda of DAILY GUIDE when the contest was put to a vote, and took home a Nokia 2600 Classic. The latter beat the rest in an accompanying draw and also went home with the same product.
By A.R. Gomda