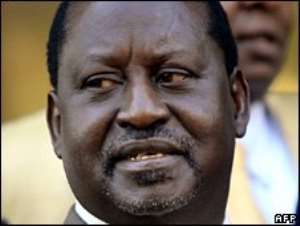 Kenya's opposition leader Raila Odinga has officially become prime minister at a swearing-in ceremony for a new coalition government. Mr Odinga's cabinet post is a key new element of the power-sharing deal with President Mwai Kibaki, aimed at ending post-election violence. The agreement, signed in February, prescribed an equal share of power. Some 1,500 people died and 600,000 fled their homes in violence after a disputed presidential poll in December.
Mr Odinga, whose Orange Democratic Movement (ODM) is the largest party in parliament, said the presidential election was rigged in favour of Mr Kibaki.
Former UN Secretary General Kofi Annan, who mediated the deal, was among the dignitaries who witnessed the ceremony in the capital, Nairobi. Mr Annan said much work remained to be done, but he hoped the new government would form a "cohesive, effective and productive team".
The ceremony was presided over by President Kibaki at State House, his official residence. Mr Kibaki and Mr Odinga were allies in the 2001 election but fell out when the president did not name Mr Odinga prime minister after taking office.
Some question whether the two men and their supporters can work together after such a bitter dispute. The government includes 40 ministers and 52 deputy ministers, with posts evenly divided across the country's ethnic communities.
Advertisement
It is the largest cabinet that Kenya has seen since independence. There has been criticism of its size and the cost to Kenyan taxpayers, says the BBC's Karen Allen in Nairobi. Each minister is to be paid about $16,000 a month and entitled to two officials cars and five security personnel - and in the case of Mr Odinga, 45 security personnel.
Mr Odinga has said that he knows people would have preferred a leaner cabinet, but it was a price that had to be paid to balance everyone's interests. Our correspondent says one of the first priorities for the new unity government will be resettling the tens of thousands of people still living rough after the post-election violence. Longer term challenges will be constitutional change and land reform, she says.
The political violence also ignited land disputes between rival ethnic groups. Another challenge will be to curb corruption which has blighted Kenya's government for many years. Mr Kibaki was first elected on a pledge to tackle corruption but donors say little has changed.