Ahmadiyya Muslim Spiritual Leader in Ghana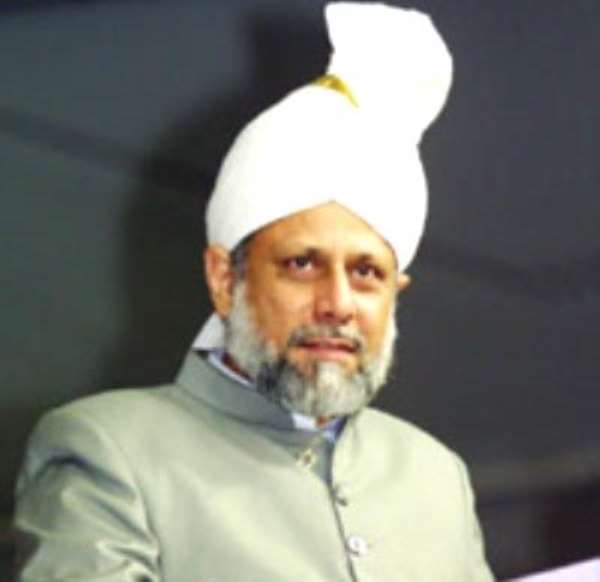 Hazrat Mirza Masroor Ahmad Khalifatul Masih V, spiritual leader of the Ahmadiyya Muslim Mission
The spiritual leader of the Ahmadiyya Muslim Mission, Hazrat Mirza Masroor Ahmad Khalifatul Masih V, yesterday invoked the blessings of God for peace and progress of the nation.


'I pray for the prosperity of your country,' he said, when he paid a courtesy call on President John Agyekum Kufuor at the Castle, Osu in Accra.


He is here for the centenary celebration of the Ahmadiyya Muslim Mission.
The Ahmadi Spiritual Head, who last visited Ghana about four years ago when he reportedly publicly expressed confidence that Ghana was going to strike oil, noted the tremendous transformation that had taken place in Accra by way of infrastructural development.
He counselled the nation to learn lessons from the experiences of other oil producing countries in order to make best use of the resource.


President Kufuor reiterated the Government's resolve to ensure best practices in the management of the natural resource, saying, 'We are not going to lose our heads.'


He acknowledged the abundant blessings and kindness that God continued to show to the country. 'God has been good to Ghana especially during my tenure.'


President Kufuor expressed appreciation for the honour done the nation by its choice for the launch of the worldwide anniversary celebration.


He said he was not surprised considering the fact that it was here that the Ahmadi Spiritual Head launched himself into the leadership of the religion.