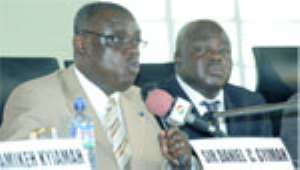 Interest rates of the various banks are expected to remain relatively high this year as a result of rising oil prices and shortfalls in agricultural production in Ghana.
The Board Chairman of the National Investment Bank (NIB), Dr Charles Jebuni, who made this remark at the 39th annual general meeting of the bank in Accra yesterday, said the rising oil prices coupled with the deficit in agricultural production would thwart the country's efforts at maintaining macro-economic stability especially achieving single digit inflation in 2008.
"Interest rates may thus remain relatively high for most of 2008," he stated.
Notwithstanding the challenges ahead, Dr Jebuni said appropriate measures have been taken by his outfit to increase the minimum capital to the required level of GH¢25 million and GH¢60 million in 2010 and 2012 respectively.
Meanwhile, NIB has posted a profit after tax of GH¢5,989 million during the 2007 financial year compared to the previous year's figure of GH¢4,423 million.
The total income of the bank also went up by 54 percent from GH¢25.19 million in 2006 to GH¢38.8 million during the financial year under review.
NIB further saw its total deposit up by 44 percent from GH¢169.75 million at the end of December 2006 to GH¢38.8 million in 2007.
In addition, the bank's shareholders funds increased by four percent to GH¢43.50 million in 2006 to GH¢39.24 million in 2007.
Consequently, the bank had proposed a dividend per share of GH¢0.0374 and it was accepted by the shareholders during the 39th annual general meeting.
The shareholders also agreed that the bank raises its stated capital from GH¢7 million to GH¢20 million by a transfer of GH¢13 million from its income surplus account.
The Managing Director of the bank, Sir Charles Gyimah mentioned the installation of eight Automated Teller Machines (ATMs), establishment of Bedrock Venture Capital Limited, review of 2006 to 2008 strategic plan, and the provision of banking services to selected Ministries, Department and Agencies, among others, as some of the key milestones for the 2007 financial year.
By Felix Dela Klutse