Ghana-China relations is based on mutual respect - Yu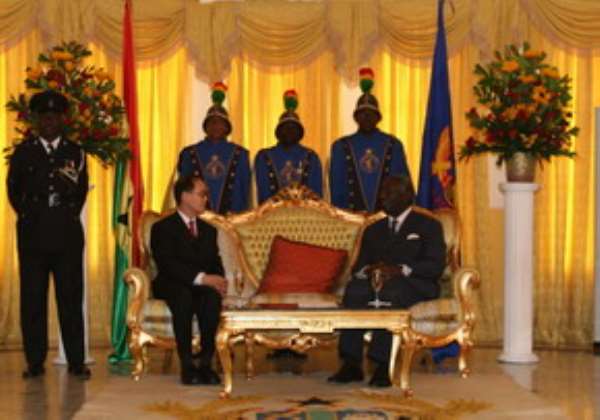 Ghana-China relations are based on mutual respect and dates back to the First Republic, when Osagyefo Dr. Kwame Nkrumah established the fraternal relations based on mutual respect, Chinese Ambassador Yu Wenzhe said on Tuesday.
He said President Nkrumah and Chairman Mao Tse-Tung developed the friendship because they had a common cause since both were heads of developing countries that shared common aspirations.
Mr Yu, who was speaking at a dinner he hosted for the Ghana-China Friendship Association (GHACIFA) in Accra, said the diplomatic relations between Ghana and China had the added dimension of people-to-people relations in addition to the government-to-government relations.

Referring to the impending Beijing Olympic Games, Mr Yu said Chinese separatists were moving heaven and earth to embarrass the Chinese Government by trying to interrupt the journey of the Olympic Torch, adding that he was appalled when the separatists attempted to take the torch away from a physically challenged person, who was carrying it.

He said that singular action showed the level that the separatists had sunk and urged all peace-loving people of the world to condemn the anarchists, who are working for the Dalai Lama, the Traditional High Priest of Lamaism.

Mr Kojo Amoo-Gottfried, President of GHACHIFA and Former Ghana Ambassador to China, recounted how a large delegation from Ghana led by Osagyefo Dr Nkrumah went to China to establish the Association on 18th August 1961 in Beijing.

He said Ghana stood by China during the period the West attempted to ostracise her, adding that President John Agyekum Kufuor was incidentally the person who cast Ghana's vote to make China a permanent member of the United Nations Security Council in 1971.

Mr Amoo-Gottfried said Ghana and China believed in championing the cause of the underprivileged and there was every reason for the two countries to forge ahead together.