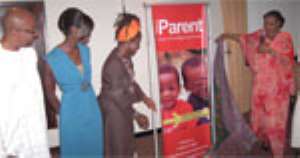 The first-ever magazine on parenting in Ghana has been launched in Accra with a call on government to allocate more attention and resources to parenthood.
The magazine, 'Today's Parent Magazine', is aimed at providing useful information and strategies for parents in bringing up their children in the wake of modern industrial demands.
Speaking at the official launch, Chief Executive of Ghana Chamber of Mines, Ms Joyce Aryee, commented that the magazine would provide insightful experiences for today's parents, adding that successive governments had failed to address the issue of parenting which is a necessary tool for development.
Ms Aryee contended that in the advanced world, the issue of parenting had been factored in every sphere of life, and that there was the need for government and stakeholders to also drum up such initiatives.
"The dilemma of many Ghanaian parents now is where to find useful information on parenting on the market as no one is born with the skills, and I hope this magazine will be a useful tool for them."
She noted that sometimes, as humans, parents do make mistakes in bringing up their children, saying it was proper for today's parents to find avenues for addressing the situation by sharing ideas which could help improve their skills.
She said the older generations had failed to address the issue of parenting and that had compelled the younger ones to take up such challenges.
The Chamber of Mines Boss commended Sardia Mould, Publisher of 'Today's Parent Magazine' and CEO of Savannah Publications Ltd, for coming out with such a magazine.
The Managing Director of Stanbic Bank, Mr Alhassan Andani, also praised the publisher for the initiative, and hoped that the magazine would be a useful guide for many Ghanaian parents.
Mr Andani said in business, the most valued resource is the people, and that the bedrock of the people is parenting which is a challenge to developing countries like Ghana.
He disclosed that his outfit's mission and vision was to make a difference in its areas of operation, adding that Stanbic Bank would continue to champion the cause of the Ghanaian society.
In an interview with DAILY GUIDE, Mrs Sardia Mould said the idea of having a magazine to cater for the needs of the domestic market came when she moved from London to Accra and had difficulty in accessing useful information to help her in bringing up her child.
She hinted that the magazine would focus on Nutrition, Health, Finance, Child Development and other pertinent issues affecting parenting.
The first copy was auctioned for GH¢1500.
The magazine would be published once in every two months.