NPP Parliamentary Blues... VISA DEALS HALT AFEKU`S VETTING...but she denies any wrongdoing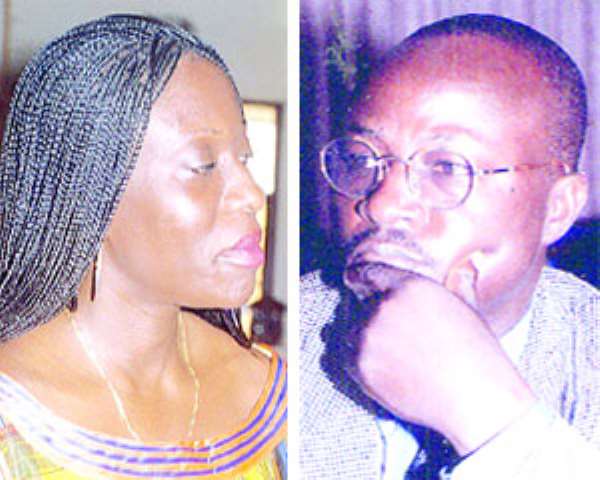 Ms. Catherine Afeku, Government Spokesperson on Social Service and Infrastructure (left), Nana Ohene Ntow, NPP General Secretary (right)
The vetting of Ms Catherine Affeku, Government Spokesperson on Social Service and Infrastructure, who is also eying the Evalue-Gwira seat was put on hold by the Vetting Committee during sitting last week, following a petition received from one Habakkuk Baffoe of the University Of Education, Winneba.
In the said petition dated 6th April, 2008, and headlined 'Petition Against Catherine Afeku-aka Catherine Stardivan, as NPP Parliamentary aspirant for Evalue Gwira', Mr. Bafoe wrote: 'I am an NPP activist with card number 0189254 and a resident of Axim in the Nzema East Municipality which embodies Evalue-Gwira constituency. I am petitioning your high office against Mrs. Catherine Afeku, as parliamentary aspirant for our party'.
According to the petitioner, Catherine Afeku and her husband have dragged the name of the party into the mud, through their alleged fraudulent dealings as 'VISA CONTRACTORS'. As a result, the party was being referred to as a '419 Party' by the electorate, more especially the political opponents in the constituency.
The petitioner mentioned names of people who had fallen prey to Afeku's alleged visa dealings, such as Samuel Nokor and Michael Nokoe, both of Axim.
Catherine, according to the petitioner, refunded their monies to them after the two had threatened to cause her arrest during the vetting day.
The petitioner is reported to have furnished the Vetting Committee with receipt of visa deals that the aspirant had issued to her victims.
The petitioner also contended that Afeku was admitted into the party on 8th August, 2006, and that she does not fulfil the two-year mandatory period in the constitution of the party. 'It is therefore my humble appeal that the national constitution and the view of the electorate are given more consideration during the vetting so that Evalue-Gwira gets a better candidate to partner our flagbearer', the petitioner concluded.
Meanwhile, Catherine has denied ever defrauding the victims mentioned in the petition to the Vetting Committee and has thus threatened legal action.