Zimbabwe poll petition rejected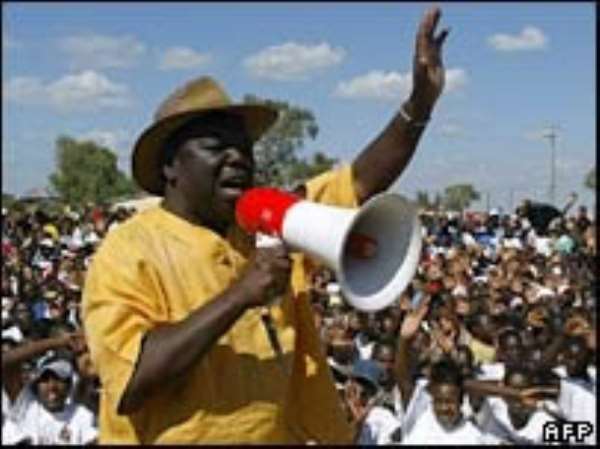 Zimbabwe's High Court has ruled against an opposition demand for the electoral commission to immediately release last month's presidential election results.
Judge Tendai Uchena rejected the Movement for Democratic Change's petition to order the publication of the outcome from the 29 March poll.
The MDC says its leader Morgan Tsvangirai won the election outright, beating President Robert Mugabe.
But electoral officials have ordered a recount in a number of seats.
The judge said that it would be wrong to release the results while reports of anomalies in some constituencies were being investigated.
'Sad day'
MDC lawyer Andrew Makoni said it was a "sad day in Zimbabwe".
The opposition vowed to press on with plans for a nationwide strike on Tuesday.
MDC Vice President Thokhozani Khupe was quoted by AFP news agency as saying: "We have called for a mass stay-in until the results are released."
But Mr Mugabe's Zanu-PF welcomed the judgment and dismissed any suggestion the court was biased towards the ruling party.
Patrick Chinamasa, the justice minister, said: "How can you force the electoral commission to release results when it is not ready?"
Independent tallies suggested Mr Tsvangirai - who is currently in South Africa meeting prominent officials - won the poll, but took less than 50 per cent of the vote, meaning he would have to face a run-off vote.
There are reports that political violence is escalating, with up to 1,000 people displaced at Manicaland province in eastern Zimbabwe.
The MDC and human rights activists say the security forces are targeting opposition sympathisers to intimidate them ahead of any run-off.
'Democracy gone wrong'
The electoral commission says the recount of presidential and parliamentary results in 23 constituencies will start on Saturday.
Zanu-PF requested a recount in 22 constituencies, while an MDC application for a recount in one seat has also been granted.
The parliamentary election saw Zanu-PF lose its majority for the first time in Mr. Mugabe's 28-year rule.
But the majority could be recovered if the ruling party is awarded just nine of the 23 seats subject to a recount.
The speaker of the South African Parliament, Baleka Mbete, has denounced the failure to publish the results of the presidential
election as a case of "democracy gone wrong".
Miss Mbete is a political ally of Jacob Zuma, who is tipped to succeed Thabo Mbeki as South African president, and who last week himself
criticised the delays in Zimbabwe.
After a summit of southern African leaders in Zambia at the weekend, the Southern African Development Community (SADC) called for the
election results to be announced speedily.
But it did not urge Mr Mugabe to step aside, as the MDC had wished.
Under President Mugabe, a drawn-out economic collapse in Zimbabwe has seen hyper-inflation, massive unemployment and the departure of hundreds of thousands of people.