President Kufuor Returns From India-Africa Summit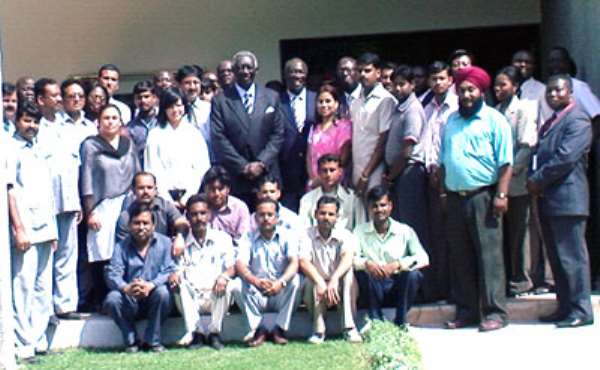 President Kufuor Poses with Staff Of Ghana High Commission in India
President John Agyekum Kufuor returned home yesterday from a week's trip to London and New Delhi. Mr Andrew Awuni, Press Secretary to the President, told journalists that President Kufuor first visited London where he attended the Progressive Government Summit together with 19 other world leaders.
The summit, which was convened by British Prime Minister Gordon Brown, examined global trade and climatic change. He said it afforded the leaders the opportunity to highlight issues concerning their respective countries.
Mr Awuni said from London President Kufuor continued to New Delhi, India, where he attended the first Africa-India summit. He said 14 African Heads of State were selected by the African Union to represent the continent at the summit.
He said the summit sought to strengthen the partnership between India and Africa and also looked at ways of making the partnership more beneficial to both partners. He said a framework for cooperation was adopted at the summit to serve as a guide for corporation between Africa and India.
It was also agreed at the summit that goods from least developed countries which entered India would not have any tariffs imposed on them. Mr Awuni said Ghana was the toast of the business community in India and several companies expressed interest in doing business in Ghana in housing, tourism and several other key areas.
At the airport to meet President Kufuor were Vice President Alhaji Aliu Mahama, ministers of state, the Chief of Defence Staff, Lt-Gen. J.B. Danquah, the Inspector General of Police, Mr Patrick Acheampong and other senior military and police officers.