Rawlings Booms... John Is Yesterday Man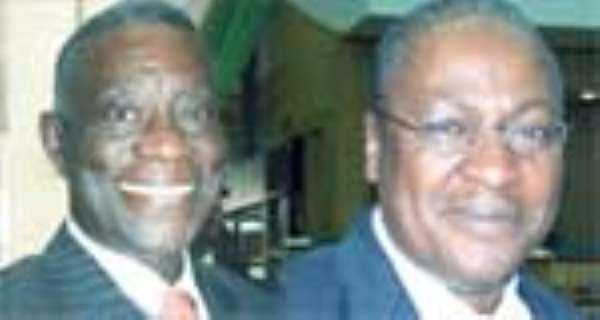 THE NATIONAL Democratic Congress (NDC) founder, Jerry John Rawlings has rubbished the perceived popularity of the party's vice presidential candidate, John Dramani Mahama, virtually describing him as 'a yesterday's man'.
Jerry Rawlings, after failing to impose his preferred choice on the party's presidential candidate, John Evans Atta Mills, launched a rather surprising attack on the personality of John Mahama, saying that he has a faded glory, a bad public image and is no longer popular among Ghanaians and therefore would not be able to attract the expected number of votes for the NDC in the December 7, 2008 polls.
However John would not want to be drawn into any controversy, saying that Rawlings was entitled to his opinion, when DAILY GUIDE contacted him.
Mr. Rawlings in his own words said if John Mahama had been the NDC running mate for the 2004 elections, he might have been useful because he had some attraction at that time; but in the 2008 race, he would not do too well for the NDC because his popularity has faded.
The NDC founder insisted that his party's flagbearer, Prof. John Evans Atta Mills should have gone in for Betty Mould-Iddrisu, the third wife of Mahama Iddrisu, Rawlings' right-hand man and former Minister of Defence under the NDC government.
Mahama Iddrisu himself contested the flagbearer slot and lost to Prof Atta Mills at the party's Legon congress.
Speaking on BBC's Focus on Africa programme last Friday, Rawlings, who had just been dribbled by Prof. Mills, a man he introduced into the political limelight, disclosed that he was having some problems with the NDC flagbearer and though John Mahama has a 'firmness of integrity' he is the wrong choice of a running mate for the NDC.
He insisted that with Betty as running mate to Prof. Mills, the NDC would have won a landslide, and accused the government of having demonized the public image of John Mahama to the extent that there is the need to do a lot of work on him.
"I have always stood by John Mahama because he is very much liked, very much loved but they have tried to demonize us, all of us toward 2007 and 2008, and I am saying that John Mahama's image can not rise any further.
We would have to do what we can to repair some of the damage but I am saying that the lady (Betty Mould-Iddrisu) was so competent that she had just gripped the nation in much the same manner that John had in 2004 and I think we would have had a landslide had he (Prof. Mill) gone in for her (Betty).
However I can assure you that John is still going to be a hard person for these guys to beat and they know it.
"I would tell you what, there were three of them; all of them very competent people.
Okay, some a little bit more competent than the others and there were those who have high public profile image, likeable character, charismatic, etc, but the comment I can make now is that he (John Mahama) could have made it almost impossible for them (the NPP) to steal the election in 2004 because of his level of popularity.
Now, he has got the running mate but I think if he (Atta Mills) had chosen the woman we would have had a landslide.
"You know something; he may not be a charismatic figure but he is a man who has a firmness of integrity that these guys can not match up to.
"People have gone so tired of this regime that they want them out. All we ask of the international community is not to leave us as they did in 2004 and allow them to steal the elections, but to be here to monitor what is going to happen," Jerry Rawlings noted.
When asked if he would not support Prof. Mills for failing to choose the female lawyer, Rawlings said: "I have always supported Prof. Atta Mills.
I have always supported him, okay. We have our differences and there is no doubt about it; but that does not mean that he is going to jump off the boat or I am going to jump off the boat.
I mean we owe our duty and our responsibility to our people and that for me is sacred. Let nobody spread any false news outside about Ghana."
Political analysts have suggested that the former First Couple is against John Mahama as running mate because they perceive him as a stiff-necked person and a level-headed politician who would neither lick their boots nor allow himself to be remote-controlled to satisfy their dictatorial whims and caprices.
News from the grapevine says the former First Lady is so thirsty for political power that she was readying herself for the vice-presidential slot of her husband's party but her ongoing legal tussle with the government became a major obstacle to her long-nurtured political dream.
By Halifax Ansah-Addo