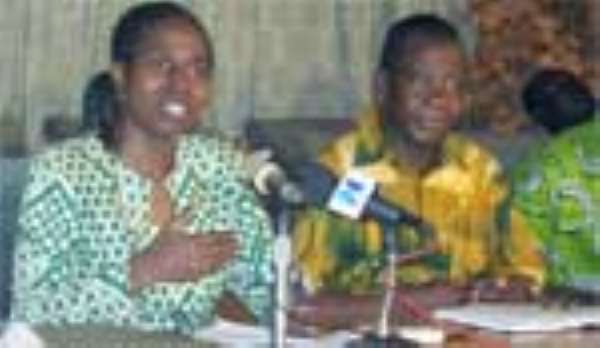 External factors such as rising cereals and flour impacted on last month's inflation as it slightly surged up to 13.79 percent, from 13.21 percent recorded in February 2008.
Alternatively, the Greater Accra region for the first time since the figures for the regions were released in January 2007 recorded the least inflation of 10.18 percent.
In March 2007, inflation was 10.19 percent.
According to figures released by the Ghana Statistical Service, March inflation was triggered mainly by the food group as occurred in February.
However, crude oil did not have much effect on last month's inflation.
While food inflation contributed 5.85 percentage points to the inflation, the non-food inflation added 7.94 points.
High prices of some basic foodstuffs such as bread and cereals as well as fish and vegetables including potatoes and other tuber vegetables were responsible for the hike in the inflation rate, making them the major contributors within the food group.
They contributed 1.60, 0.29 and 0.19 points respectively.
Within the non-food group, transport as well as hotels, cafes and restaurants were the highest contributors adding 0.36 points to the change while furnishing, household equipment and routine maintenance group added 0.24 points.
Once again, communications did not see any change in price for six months running but education saw a slight change of 0.03 points. Health also did not see any price change.
The figures showed that the national index for food, which accounts for roughly half of the goods used to compute the consumer price index (CPI) increased from 10.19 percent to 10.46 percent.
Also, the national index for non-food inflation increased to 12.79 percent, from 12.46 percent.
Taking a cue from 2005 where there was a similar trend in inflationary rate recording 17.20 percent in March but reaching 16.57 percent in June, Dr. Grace Bediako, Government Statistician, was optimistic the inflationary trend would tilt towards a downward trend by June since by then food planted in March would have been ready for cultivation.
Dr. Bediako said policies adopted by the Bank of Ghana and the Ministry of Finance and Economic Planning to help check inflation would be realized in the few months to come, thus the single digit target was still realistic.
For the regions, Ashanti recorded an inflation of 10.35 percent to become the region with the second least inflation followed by the Brong Ahafo with 10.46 percent.
The Upper, Volta and Central regions recorded inflation of 14.27, 15.4 and 16.70 percent respectively.
On the other hand, Eastern and Northern regions remained the regions with the highest inflation recording rates of 23.32 percent and 19.47 percent respectively.
By Charles Nixon Yeboah