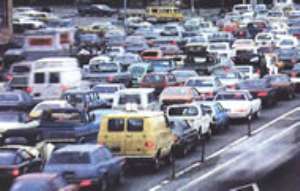 A total of 280,585 vehicles were imported into the country over the past five years (2003-2007).
This brings the figure to an average of 70,146 vehicles every year, mainly from Germany, United States and Japan.
Statistics available from the Customs, Excise and Preventive Service (CEPS) revealed that used cars otherwise called 'Home Used', dominate the list. For a country with narrow roads and poor traffic management, the figures look frightening, says an observer who reminded the policy makers of the situation in Nigeria at the height of the oil boom in the 1980s which resulted in the popular "Go-Slow" In Lagos.
Meanwhile, the Customs, Excise and Preventive Service (CEPS), says it has stopped the exercise in which seized over-aged vehicles were been crushed and reduced to scraps for use by steel companies at Tema to produce iron rods.
This is because the exercise was so expensive and was costing CEPS too much money to crush a single over-aged vehicle for use by steel companies.
CEPS Commissioner, Sam Doku told The Spectator that the CEPS authorities have had to pay mechanics from its own resources to dismantle a single vehicle by removing the tyres, engines and other parts of the vehicles leaving only the metal frame which are sold to the steel works.
Over-aged vehicles by law are those vehicles which are more than ten years old on their importation into the country.
According to Commissioner Doku, the CEPS authorities decided to abandon the exercise due to its high cost and rather resorted to a public auction of said vehicles classified as averaged.

The other category of vehicles that are publicly auctioned are those that had been seized because they did not have genuine documentation covering them or the owners failed to clear the vehicles within 60 days after discharge or entry into Ghana.
Regarding stolen vehicles, the CEPS Commissioner explains that when the owner of a stolen vehicle is identified in a foreign country, the owner was the made to bear the cost of returning to the them.
However, stolen vehicles whose owners are unable to be traced are confiscated to the state and disposed off accordingly.