Indo-Africa Summit Comes To Successful Ends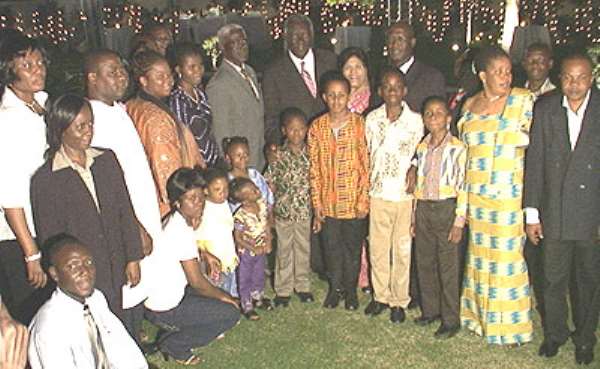 President Kufuor poses with some members of the Ghanaian Community in India
The two-day first India-Africa Summit ended in New Delhi, India, last Wednesday with an adoption of a framework for co-operation and the Delhi Declaration for stronger ties between India and Africa.
The two parties agreed to build on the traditional warm relations that existed between them to become stronger partners on the basis of equality, mutual respect and mutual benefit.
The two parties called on the United Nations Security Council to make important institutions of international security governance more democratic, more responsive and more representatives.
'We re-affirm our longstanding position that India and Africa deserve permanent representation in the United Nations Security Council and we are committed to support each other to see to it that this objective is realised,' they said in the Declaration.
Mr Jakaya Mrisho Kikwete, Chairperson of the African Union (AU), and the President of the United Republic of Tanzania, in his closing remarks said, the major concern of the Summit was food security and high oil prices which were disrupting economies and making living conditions of the people more expensive.
He said the heads of state at the Summit agreed that these areas of concern should be addressed to mitigate the impact of high oil and food prices on the economics of developing countries.
Mr Kikwete said the two parties also decided on promoting trade and investment and appreciated India's efforts towards enhancing Africa's capacity in the fight against poverty and HIV/AIDS.
Some of the key areas of co-operation included focusing and forging more contemporary partnership like trade, industry and investment, energy, agriculture, regional integration, health, education, ICT, political co-operation, water and sanitation.
Dr Mohamed Ibn Chambas, ECOWAS Commission President, in an interview with the Ghana News Agency (GNA), said the Summit had brought new dynamism between India and Africa and expressed the hope that the framework for co-operation would be implemented after the deliberations.
He said Africa needed help in railway infrastructure and India could help the continent to improve and achieve this objective.
Dr Chambas said because of the long standing bilateral relations between India and Africa, the new fund of five billion US dollars will help to build regional infrastructure in each member country.
The Heads of State who attended the Summit included President John Agyekum Kufuor of Ghana, South Africa's Thabo Mbeki, President Yoweri Museveni of Uganda and President Jakaya Kikwete of Tanzania.
Others were Algerian President Abdelaziz Bouteflika, Burkina Faso's Prime Minister Tertius Zongo, President Joseph Kabila of Democratic Republic of Congo, Ethiopian Prime Minister Meles Zenawi, Kenyan Prime Minister Mwai Kibaki, Senegalese President Abdoulaye Wade, Nigerian Vice-President Goodluck Jonathan and Zambian Vice President Rupiah Banda.
International Co-operation Minister, Fayza Abou El Naga represented Egypt, Ali Abdul Salam Altreki, Libya's AU Minister headed Libya's delegation and AU Commission President Alpha Konare represented the Union.
Many experts considered the India-Africa Summit as a diplomatic exercise by India to counter the increasing economic clout of China in the oil-rich African countries.
However, Indian officials maintained that India was not in competition with any other country as its relationship with Africa was based on mutual respect and empowerment through trade, technology and human resource development.