KONADU MISSING •As John Speaks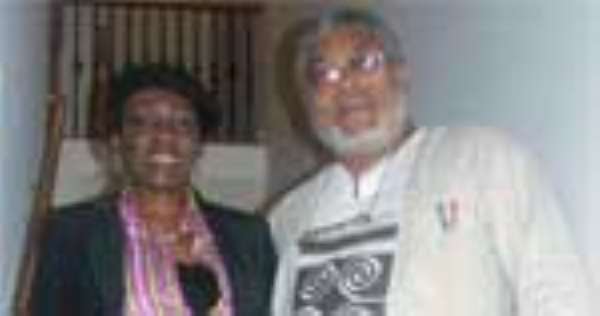 Forty-Eight long hours after the National Democratic Congress (NDC) flagbearer, Prof. John Evans Atta Mills had called her bluff, the former First Lady, Nana Konadu Agyeman Rawlings is yet to carry out her threat.
The nation's largest opposition party had on Wednesday acted in a manner observers saw as nothing short of a rebellion against the founder and his wife, who had openly rooted for a woman running mate. But she had not been heard of since Mahama was named the running mate.
In fact, apart from a two-line comment on an Accra-based private radio station, the fire-brand president of the 31st December Women's Movement, a militant women's wing of the NDC, could not be located by the majority of the Ghanaian media.
Nana Konadu, who criticised both Prof Mills and John Mahama, had threatened that the flagbearer would no longer be treated with kids' gloves, adding that she would act appropriately if her choice, Mrs. Betty Mould-Iddrisu, was not picked as running mate.
She did not only describe Mahama, the Bole/Bamboi MP and former Communications Minister as inconsistent, but indicated that she would have personally joined a group of like-minded women who took to the streets some ten days ago calling for a woman running mate.
Mrs. Rawlings spat fire on a number of radio stations and threatened something would happen if the professor went ahead to pick John instead of Betty, to partner him in the December presidential elections.
But two days after her threat was thrown into the dustbin, the former First Lady had shied away from the media and remained silent, which was a far cry from what happened when word got round that Mills was not going for a woman as running mate.
Similarly, her husband and NDC founder, who was dribbled at the Kama Conference Centre programme where the name of the running mate was announced on Wednesday, vented his spleen on Victor Smith, his longest-serving special assistant, sacking him for supporting Mahama.
Meanwhile, the newly picked running mate has debunked claims that only loud-mouthed persons would help give the needed balance to the seemingly cool professor.
He told Joy FM's Kojo Oppong-Nkrumah yesterday that the country would not need fire-eaters to turn her fortunes around, stressing that all that Ghanaians needed were competence and firmness.
"Ghana doesn't need rubble-rousing and fire-eating persons. You just need firmness, and I think we have to leave the rest to the people of Ghana," he said.
According to him, even though he and Professor Mills may not have the fire-eating disposition of others, they formed the pair needed to scale through the December elections.
On Mrs. Rawlings' choice, John said he was not the least perturbed by the development, saying everyone had a right to make a choice.
"You cannot force everybody to like the same thing. For me I believe strongly in people's ability to express themselves. And so if anybody makes another choice, no matter who makes that choice, I respect it and it doesn't worry me".
He however added that with all the brouhaha now over, he expected the first couple to support him.

Hon John Mahama said even though the former First Lady vehemently criticized him and openly lobbied for a female as running mate, he thinks it was nothing more than her personal opinion, which he said should be respected.
He intimated that even though he had not seen her since he was given the nod by the National Executive Committee and Council of Elders, he still expected Konadu and her husband, Jerry John Rawlings to give him and Mills their utmost support.
He admitted he initially had other plans in mind other than becoming running mate, stressing that sometimes fate plays tricks on man.
He again indicated that it took quite a hell of pressure to accept the offer.
"Yes, I had a plan, and the plan was not to continue in politics for a while. I wanted other challenges, and initially when this thing was broached I was categorical and said no.
It wasn't something I wanted to do, but you have people who will come and speak with you; people you consult with and all that.
Aside from that, I had a meeting with Prof and we leveled with each other. It was a frank discussion and what has happened has happened," he revealed.
The Bole/Bamboi MP also rubbished the use of religion and ethnicity as yardsticks to determine who should do what in the quest for the presidency.
It would be recalled that Mrs. Rawlings had fumed some nine days back at a publication suggesting that Mahama was Mills' choice, and dared the flagbearer to go ahead and name the MP as his running mate if he was a man.
Her behaviour caused a lot of stir in political circles, with observers expressing worry over her comments.
While the former First Couple promised that Mills would no longer be treated with kids' gloves, the 'famous' Azorka boys of Tamale were on rampage defacing Mills' pictures on billboards in the northern regional capital, and threatened to set the party office ablaze.
By Bennett Akuaku