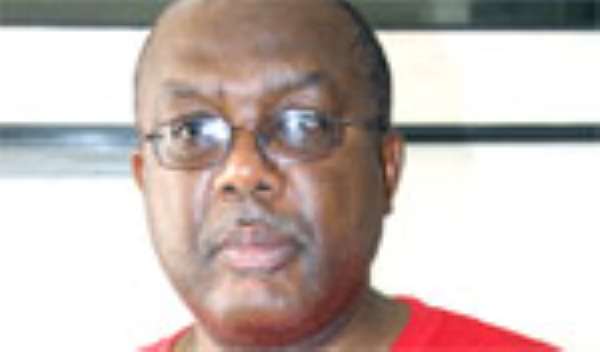 Victor Emmanuel Smith, the dismissed special aide to former President Jerry John Rawlings, has stated that he has no reason to miss his former boss, whom he has closely worked with since January 2001.
Victor, who was fired through an SMS text message sent by his former boss, told Fox FM, a Kumasi-based radio station yesterday that he had no regrets over his dismissal.
The firebrand aide to the ex-President said: "I have no compelling reason to regret losing my job in spite of the fact that I related with my boss in a very nice way".
Mr Smith was sacked by Rawlings on Wednesday afternoon for what the former President described as 'obscene loyalty', with a directive to the aide to draft his own dismissal letter.
"Thanks for your services to my Office Mr Victor Smith. Draft a press release relieving you as staff of my office to enable you continue your political career, hopefully in the office of Prof Mills. Press announcement to be prepared right away. Thanks and God guide you.-JJR", the text read.
The former aide was said to have towed a line contrary to the position of his master's wife, Nana Konadu Agyeman Rawlings, in the NDC running mate saga, rooting for John Mahama rather than Betty Mould-Iddrisu, wife of Alhaji Mahama Iddrisu, an NDC patriarch.
He said he has not set eyes on Nana Konadu for the past four weeks, even though he works at the Ridge residence of the former first couple.
Victor however indicated that Mr. Rawlings would continue to be his friend for as long as he lives, his unfortunate dismissal notwithstanding.
"I can tell you that I related with the former President as a friend more than as a special aide and did all sorts of things commonly with him," he revealed, giving the assurance that the cordial relationship will not die.
According to him, ex-President Rawlings as well as others at the office of the former President would attest to the fact that he (Victor) discharged his assigned duties to perfection bringing dignity and respect to the office.
"I worked tirelessly, meticulously and honestly just to secure the interest of Mr. Rawlings all the years I served as his special aide," he added.
He said he had to, on several occasions, engage the ruling party and its functionaries including the then Minister of National Security, Francis Poku, in sizzling arguments in a bid to protect the interest of the former President.
Mr. Smith therefore averred that he could not be sacked for 'obscene loyalty', contending that he remains loyal to the former President and the National Democratic congress (NDC) in the discharge of his duties.
According to him he is still ignorant about the basis for his dismissal, stating that he has to be given time to find out exactly why he was dismissed.
The former Rawlings hatchet man, who disclosed that he was taking a leave of absence to rest for a while, denied reports that he was being assigned a new role at the office of Professor John Evans Atta Mills, the presidential candidate of the NDC.
Mr. Smith indicated that when his leave of absence lapses he would work like a 'bull' to ensure that the NDC comes back to power to manage the affairs of the country.
Touching on the selection of Hon. John Dramani Mahama as running mate to Prof. Mills for the 2008 general elections, the former President's buddy said the choice was a perfect and well thought-out decision which had the potential of winning power for the NDC on December 7, this year.
"With the eventual selection of Hon. John Mahama, I am convinced that victory for the NDC is a must one that cannot elude the party for any reason."
Mr. Smith, who pointed out that his predictions always come true, envisaged that no matter what happens Prof. Mills and John Mahama would definitely become the next president and vice president respectively of the country in January 2009.
Mr. Smith was sacked on Wednesday April 9, this year by former President via a text message which was spread to media houses in the nation's capital, Accra.
The text message at the centre of the dismissal kindly asked Mr. Smith to continue with his political ambition by assuming a yet-to-be-identified role at the office of Prof. Mills.
From Morgan Owusu, Kumasi