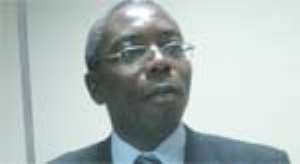 Kofi Yamoah, Chief Executive Officer of the Ghana Stock Exchange (GSE) says the Accra Bourse could realize a bullish trend at the end of this year with the coming on board of more stocks such as Unique Trust Financial Services Limited and Aviance Ghana Limited by June this year.
Speaking in an interview with CITY & BUSINESS GUIDE, Mr. Yamoah said the exchange, which has already attained an overwhelming 20 percent growth in the first quarter of this year, could push the GSE All share index to over 90 percent by the end of 2008.
At the moment, the GSE is reviewing the draft prospectus meant for the listing of Unique Trust Financial Services before dispatching it to the Securities and Exchange Commission (SEC) for final scrutiny and approval.
The securities regulator is also working on the draft prospectus of Aviance and is expected to fast-track the approval process, he added.
The exchange attained a bullish trend in 2004 where the market capitalization rose to GH¢1.261 billion with the GSE all-share index increasing by 91.3 percent.
The performance was accompanied by five new listings including Benso Oil Palm Plantation (BOPP), CAL Bank whose Initial Public Offer was oversubscribed, and Clydestone, a Ghanaian owned information technology firm.
As at Tuesday, the market capitalization of the GSE had risen to GH¢14.309 billion mainly because of continuous investor confidence especially local investor participation and the impressive financial statements issued by the 36 listed companies.
The bond market also witnessed some movements with the two and three year bonds showing some investor pull, Mr. Yamoah explained.
Six equities led the gains at the end of Tuesday's trading with BOPP, Ecobank Ghana, Ecobank Transnational Incorporated and Guinness Ghana Breweries leading the pack.
When quizzed about how far the programme meant for luring more SMEs to list on the capital market had gone, Mr. Yamoah emphasized that both Unique Trust and Aviance were SMEs but because of their consistent growth in the past years, they could be described as large firms.
He however said the exchange will continue to deepen its discussion with the SMEs to ensure that they make proper disclosure of accounts and apply good business practices.
By Charles Nixon Yeboah